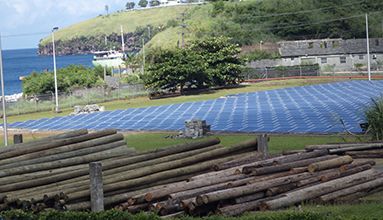 A step in the right direction… but a quantum leap needed now!
Tue, Dec 5, 2014
by Donald DeRiggs
I welcome with open arms the step taken by VINLEC to tap into solar energy as a means of lowering both our carbon footprint and fossil fuel bills. The former has implications on global climate while the latter, which is related to the former is what consumers have to contend with on their monthly bills – fuel surcharge -which is more often than not higher than the energy charges.
Grid tie solar systems help to reduce the demand on diesel generated electricity during daytime operations, but the solar farm at Lowmans Bay must be supplemented by other grid tie systems in different parts of the island if it is to make a significant impact. The roofs of schools can be used to place solar panels without problems of harvesting rain water which is especially important to the Grenadines. There are close to 100 Primary and Secondary schools nationwide whose roofs can accommodate a collection of solar panels and tied into the national grid, thereby reducing the demand on diesel generated electricity during the day, consequently reducing the fuel surcharge.
The concrete catchment tanks in the Grenadines can also be covered with solar panels without problems of harvesting rain water and future solar farms in the Grenadines can be built serving as water catchments. The roofs of hangars and large warehouses in the Grenadines can also be retrofitted with solar panels that can tie in to the national grid (Bequia has led the way with a grid tie PV system in Paget Farm).
Here is where Central Government can use their diplomatic connections to seek assistance in PV (PhotoVoltaic or Solar) systems. VINLEC can also invest in this area as it is a reliable source of electricity; here in the Caribbean we have at least 300 sunny days out of the 365. Monocrystalline solar panels are more efficient than the polycrystalline panels currently used by VINLEC and still produce electricity even on cloudy days albeit with less amperage, but still more efficient than poly/multi-crystalline panels.
Solar street lights using high intensity LED lights is also the preferred way to go, again reducing the demand on diesel generated electricity. What about the much touted production of geothermal electricity. Electricity generated from geo-thermal sources is also almost inexhaustible and should be pursued vigorously. Here again, friendly nations who have the aerial capability can map out all the hot spots in St Vincent and the Grenadines using infrared imagery to locate thermal spots, then choose the most suitable location to set up operations. A recent mission inside our active volcano to look for geothermal energy was a waste of time and resources. We all know the volcano has active fumaroles, but to set up shop in an active volcano, on its slopes or base is sheer stupidity. With even a minor eruption all would be lost. There are other hotspots in SVG pretty close to the surface, … we can find them with some help from above.
And finally, fisherfolk at Lowmans Bay are still wondering what happened to the plans to help them improve their standard of living. Diesel is still flowing into the sea chasing the fish, they complain. The lockers, training room, cold room, fuel pump, bath and changing room for the public, restaurant, parking lot cum playground all appear as indices in an inch thick environmental study and recommendation, but sad to say, the current development has degraded the environment significantly more. So VINLEC sets up shop promising the fisherfolk to help improve their informal dwellings and shops, but almost ten years after , NOT A THING except dirty water and diesel in the sea!!! It does not happen everyday, but it happens, I swim there at least once per week.
Here is an excellent opportunity for VINLEC to fulfill their promise, as well as raising the standard of living for fisherfolk at Lowmans Bay. The lockers, training room, office, changing rooms and restaurant can all be powered from stand alone renewable energy devices. VINLEC is a profitable business and should make good their promise to fishermen.