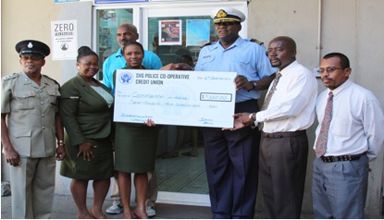 RSVGFP receives sponsorship cheque of $7,350 for Christmas Carolling Contest
The Police Cooperative Credit Union Limited handed over a cheque in the sum of $7,350 to the Royal St Vincent and the Grenadines Police Force on Tuesday, to sponsor the Annual Police Christmas Carolling Contest.{{more}}
In making brief remarks at the ceremony, president of the Police Cooperative Credit Union Junior Simmons stated that over the past four years, the Police Credit Union has been the major sponsor of the Police Christmas Carolling Contest and has so far donated over $ 30,000 to the Royal St Vincent and the Grenadines Police Force in sponsorship monies.
Simmons said the Police Credit Union is an offspring of the Police Force; therefore, the Police Credit Union is more than happy to give back to the Police Force. He also urged police officers and members of the public who are not yet members of the Police Credit Union to become a member.
In accepting the cheque on behalf of the Commissioner of Police, Commander Brenton Caine of the RVSG Coastguard thanked the Police Credit Union for the donation. He said that the Annual Police Carolling is a community policing tool that is used by the Police Force to foster a better relationship with the public and that he is pleased that the Police Credit Union continues to sponsor the event.
Other persons in attendance were Assistant Superintendent of Police Jonathan Nicholls; Seymonde Mulcaire, manager of the Police Credit Union; Collin May, vice-president of the PCCU; Cecil Straker, secretary and Subrina Richards, cashier at the PCCU.