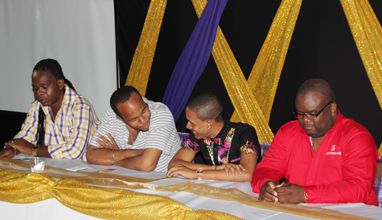 Great things expected from 'Steel Expression: I Am Legend' show
If last Tuesday's media launch of the 2014 installation of Rodney Small's Steel Expressions series is an indication of what is in store on the night of the show, patrons of the Scotiabank sponsored "I Am Legend" event are in for a treat.{{more}}
Those invited to the poolside affair that was held at Grenadine House, were treated to what Master of Ceremonies Marlon Joseph considered a teaser to the December 28 session, scheduled to take place in the Michael Findlay pavilion at the Arnos Vale Playing Field.
Spoken word poet Jerron James and singer Jared Rouse gave samples of what patrons can expect at the show, which is slated to pay homage to musical and cultural legends, past and present, foreign and local.
On the line-up to perform at the highly anticipated show are local cultural ambassadors Rondy "Luta" McIntosh, Alston "Becket" Cyrus, as well as pannist Ken Isles, poet and dramatist David "Darkie" Williams, "Iron Tuff" Foster, Kamara "Keido" Foster, Kelsie Haynes, Shania Webb, the Rodney Small Steel Orchestra, Arabesque Dancers, DJ Jude "The Cool Dude," a mass choir, The Ultimate band and of course, Rodney Small.
Tribute will be paid to the late Gerard "Rasum" Shallow, as well as Bob Marley, Michael Jackson Tina Turner, and other greats, living and dead.
On hand to endorse Steel Expressions: I Am Legend on the night, were Senator Luke Bowne, Minister of State in the Ministry of Tourism, Sports, and Culture.
Browne commended Small for what he determined to be a high standard of excellence presented by the young maestro in his Steel Expressions productions and performances.
"This young man is obviously on a mission… and he is putting his best foot forward and achieving great results, not only for himself but for the art form and he should be commended.
"I look forward to seeing continued progress in Rodney's career, I wish him well and I wish that he has all the support that he needs as he continues to raise the bar where pan music is concerned."
Cultural activist Ezzie Roberts was also on hand to promote this year's event, after reflecting on the previous year's production.
Using an acronym to describe 2013's The Graduate, Roberts said that he expected an even higher level of performance that he believes Small and his team are capable of doing.
"S: Spectacular display of sweet steel that left us satisfied…. T: Time well spent…. E: Electrifying energy…. E: Engrossed deeply in performances presented…. L: Lovely evening of learning with much laughter….
"Steel Expressions 2013 was great and Steel Expressions 2014 would be even bigger and better," Roberts predicted confidently.
Also endorsing the event was Scotiabank country manager Fitzaudy Wright, whose bank is the event's title sponsor, and Jemron Delpesche of the event's organizing team.
Small, the man of the moment, told the audience that in his mind, he considers himself a legend in the making, and would use his production this year to honour some of the persons who have inspired him, and many other artistes who follow in their paths.
"I see myself developing from a student to a graduate, and moving to becoming a legend. I have to first discover the legend in me: the freedom, courage, strength, willpower, wisdom, positive attitude towards life and death and, of course, the passion.
"Me calling myself a legend is a state of mind and what I aim to achieve. We all are legends in our own rights," the multitalented artiste pointed out.
Small said that preparations are on schedule for the late December date, and patrons can expect various aspects of the local cultural arts to be highlighted at the show.
Small said that proceeds from the concert would also be used to fund a youth development programme, slated to begin early next year.
He thanked the sponsors Baptiste and Co law firm, the St Vincent Co-operative Bank, Courts St Vincent Limited, Johnnie Walker Black, Carib Beer, Coreas City Store, IKTV, VC 3, Jo Che Movements, Grenadine House, and the National Lotteries Authority.(JJ)