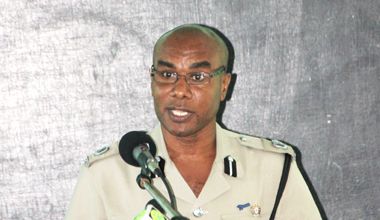 Police struggling to arrest praedial larceny
While measures have been put in place here to reduce instances of theft of livestock and agricultural produce, police say they are still struggling to address the problem effectively.{{more}}
Last Friday, while speaking on Cross Country Radio on a programme hosted by Kingsley DeFreitas, Assistant Commissioner of Police Frankie Joseph said it is difficult to police these criminal acts, since most of them are committed at night.
"It is something that we have been really struggling with. One of the reasons why we have been struggling so badly with this, even though we have established the rural constables, most of the livestock and produce are situated in the mountains, so you will find every day, rural constables go to different zones in the mountain, but they can't spend the night there," he explained.
Joseph further added that the majority of the farmers do not have houses on their farms to enable them to stay overnight to look over their livestock and produce effectively.
"The vast majority of farmers leave and come down and that is when these criminals use the opportunity to go and do that. It is really difficult to police this. The rural constables go to these areas every day from Monday to Saturday, but there is still a problem," he added.
According to figures supplied by Joseph, police arrest rates in relation to livestock theft over the last four years have ranged from a mere 3.5 per cent to 5.9 per cent. The situation in relation to arrests for theft of produce is slightly better, with arrests being made in from 12 per cent to 22.2 per cent of the cases between 2010 and 2014.
Joseph said in 2010, there were 346 reported cases of livestock theft, with 12 arrests. For theft of agricultural produce in that year, there were 190 reported cases, with 23 arrests made.
In 2011, there were 414 reported cases of livestock theft, with 19 arrests being made. That same year recorded 273 instances of theft of agricultural produce and 49 arrests.
In 2012, there were 375 reported cases of livestock theft and 22 arrests made; 228 reported cases of theft of agriculture produce were recorded and 31 arrests made.
The figures show that in 2013 there were 313 reported cases of livestock theft and 13 persons arrested. A total of 153 cases of reported theft of agricultural produce was recorded, with 34 arrests.
Joseph also disclosed that for the first three quarters of this year, there have been 289 reported cases of theft of livestock and 10 arrests. He further indicated that there were 179 reported cases of theft of agricultural produce, with 26 arrests.
In an interview with SEARCHLIGHT on Wednesday, Joseph said he did not have figures in relation to how many convictions were secured from those arrests.
In further efforts to address the problem, Joseph said from time to time, the police would visit butchers and other persons to make them more aware of the dangers of getting caught with stolen animals and produce.
"We also outline to them the seriousness of them getting caught. We try to see how much we could work with them, so in case they suspect anything, they can get in touch with us," he said.
"We also tell them that if they are not certain and they have the least suspicion, come to the station, pick up one of the police to make sure that the business being conducted is legitimate. At the same time, we want them to be on the safe side. Some people, however, will not heed to this advice, because they get these produce and animals under value and that fuels the market for such things," Joseph said.
The Praedial Larceny Act, which came into law in 2010, makes provisions for persons found guilty of praedial larceny to pay fines amounting to $10,000 or face two years imprisonment. The law also allows for them to be both fined and incarcerated.
On September 13, 2010, in an initiative between the Ministry of Agriculture and the Royal St Vincent and the Grenadines Police Force, a crop of 19 rural constables was appointed to directly address theft of agriculture produce and livestock throughout the country.(KW)