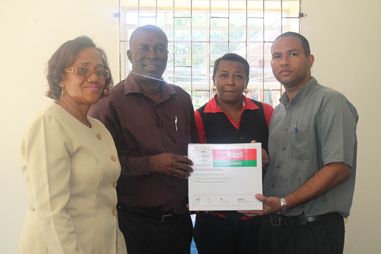 Churches donate CDN$15,000 worth of medical supplies to SVG
Over CDN$15,000 worth of medical supplies have been donated to the Ministry of Health, Wellness and the Environment, to be used in various health care facilities throughout St Vincent and the Grenadines (SVG).{{more}}
The donation was facilitated by the Streams of Power Church of SVG, which partnered with Canadian churches: Glad Tidings and Reconnection Ministries.
At a brief handing over ceremony which took place yesterday, Darion Daniel of the Streams of Power church explained that the donation was made in an effort to make a positive impact on St Vincent and the Grenadines through its health care. He also noted that the role of the church in communities is much more than providing spiritual ministry.
"We are delighted to be a part of this. It's nation building as well as we can provide for our citizens…spiritually and physically. We realize that this will go a long way and we're very happy," he said.
"It is not too high a price to pay that will help someone's life. And we realize this is not one individual only this will go to assist, but it's for multiplied many that will approach and need these equipments and services as they would approach the hospitals and various clinics."
In his remarks, Minister of Health Clayton Burgin expressed gratitude to the churches for their donation and noted that health care is usually very expensive.
"I have often said that health is an expensive venture and it's also the responsibility of all and every citizen in St Vincent and the Grenadines. One of the things we would like to note or like to ask people to do is try to stay as healthy as possible. But diseases of one kind or another may befall us and certain things, so we have to be prepared for those eventualities. It is good when you see church organizations come to the aid of a country. Whether it's in health, education or otherwise, because we know that their main objective is the spiritual aspect of our being," he said.
Noting the existence of about 39 clinics and seven hospitals in this country, Burgin used the opportunity to encourage other entities to follow the lead of the churches and donate to health care as well.
"The upkeep of these and to provide supplies and all those other things would be costly and we know that we are in a global economic situation, so the more help we can get, the more corporate individuals, groups, citizens and organizations that can say we're going to adopt this facility in this community, so that we will take some of the burdens off the taxpayers," Burgin said.(BK)