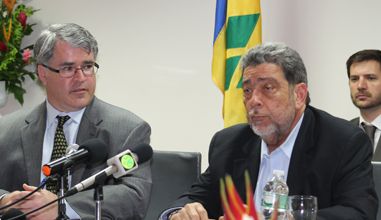 Economy of SVG should improve, says IMF official
Officials of the International Monetary Fund (IMF) have projected that with the implementation of ongoing projects and other initiatives, the economy of St Vincent and the Grenadines should improve.{{more}}
This disclosure was made during a press briefing on Tuesday, by advisor for the Western Hemisphere Department at the IMF, Elie Canetti, as he gave a report on his team's assessment of this country's economy, following two weeks of investigation.
Canetti highlighted some activities, such as the ongoing and largest capital project in St Vincent and the Grenadines, the Argyle international airport, which may affect economic growth positively.
"The airport looms large in our thinking. We have looked at examples of other small island economies, especially those that are dependent on tourism, to see what impact a new airport would have. Historically, it's been generally quite a positive impact. The key element that we're looking for is to see once investors can see that the airport is really nearing completion, will we get a lot of investment in things like hotels, tourism operators and also having airlines come to take advantage of the new airport," the advisor said.
"Having spoken with a number of groups involved in tourism, both on the private sector and public sector, I think we feel good that there is going to be considerable interest in St Vincent and the Grenadines once the airport opens. We're looking for there to be a reasonably substantial pick-up in growth, probably starting in 2016, when we expect the airport will be in full operation."
Energy is another factor that may influence the growth of the economy.
According to Canetti, energy can be an impediment to the growth of many Caribbean economies if it is not properly controlled. However, he noted that the St Vincent Electricity Services Ltd (VINLEC) has been doing a good job at keeping the energy situation in St Vincent and the Grenadines under control.
"We also think that VINLEC… seems to be well run. Their plants and equipment [are] fairly modern…the situation here, we think, is in some sense not as bad or not as much of an obstacle to growth as elsewhere," he said.
"The pricing regime here is conducive to things like conservation, so we don't think a lot of energy is being used or being wasted because energy is priced too cheaply. That is a problem in many countries around the world."
Furthermore, Canetti noted this Government's effort at tapping into renewable energy, particularly geothermal, and advised that this is the best path forward, as it relates to the cost of energy.
"I think the broad message is there's probably not a lot that can be done about energy costs in the short term."
Also, Canetti took into consideration the damage to the country through natural disasters and the possible damage, should there be others in the near future. As a result, he stressed the importance of finding ways to make the economy more resilient.
"We've looked a lot at what are the elements of physical resilience that are being put in place. For example, we've looked into the bridge building programme and we understand that the bridges that were destroyed are being built at much higher and stronger standards," he said.
"We also met with the Ministry of Agriculture to understand some of the programmes they have and the other ministries that are doing things like slope stabilization, rechannelling the rivers, relocating houses, so they are not in the path of future floods. We feel a lot is going on, but a lot has to be done, a lot more will be done."(BK)