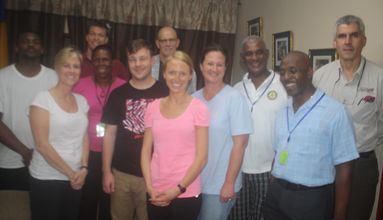 Sixth WPP visit focuses on scoliosis
St Vincent and the Grenadines continues to be the base for the World Paediatric Project's (WPP) Caribbean initiative and during the doctors' most recent visit, some nine surgeries were performed, along with a number of consultations.{{more}}
The sixth WPP visit began on Saturday, November 8 and focused on scoliosis, which is a medical condition that distorts the spine.
On Wednesday, November 12, Eastern Caribbean representative for the WPP Sister Jacqueline Browne-King said that the medical team, led by paediatric orthopaedic surgeon Dr Robert Tuten, managed to do nine surgeries.
She added that most of the patients are doing well and have even begun moving around after the corrective surgery.
Team leader Dr Tuten said that the WPP always looks forward to coming to SVG, while he stressed that scoliosis is a disease that can affect your heart and lungs, "so we like to fix it as soon as we can". He said that there are many different types of scoliosis, with the majority of cases occurring in teenagers, young adults and sometimes very young children. This year's focus was on idiopathic adolescence scoliosis, which is the most common type.
Sister King said that persons who received help under the project this year have come from places like Grenada, Dominica, Nevis, Suriname, Antigua and St Vincent and the Grenadines, while the WPP's 2014 mission has impacted about 80 persons (33 Vincentians,) with nine of them receiving surgery.
She added that, to date, the WPP has also provided surgery in the United States for 133 Vincentian children, with 60 per cent of those surgeries being open heart surgeries, done with donated medical supplies valued at EC$26,222,801.93. Also, 87 teams have provided 4,879 evaluations and 630 surgeries for Vincentian children at the Milton Cato Memorial Hospital (MCMH), valued at EC$18 million. The team left these shores on Saturday, November 15.