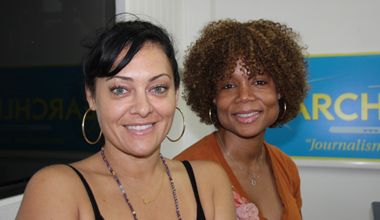 Pre-school for infants with disabilities opens in SVG
Two members of the Children of the Caribbean Foundation say that are pleased to set up the Caribbean's first pre-school for infants with disabilities in St Vincent and the Grenadines.{{more}}
Rosie Hodge-Adams and Erika Jackson, co-founders of the Los Angeles, California based organization, told SEARCHLIGHT last week that the institution was launched here in May this year, in collaboration with the Helping Hands Centre, located at New Montrose.
The pair visited last week, to officially open the doors of the school, which they named the Stepping Stones Pre-school.
"Last year we had thought about opening a pre-school in St Vincent and had been in discussions and doing background research on St Vincent and the Grenadines," Hodge-Adams told SEARCHLIGHT.
"And since pre-school education and special needs are part of the Millennium Development Goals, we decided to incorporate them both."
Hodge-Adams said that further research led the organization to the Helping Hands Centre, and they contacted its chair, Junior Bacchus, who accommodated the addition of the pre-school to the already established centre.
"Because the Helping Hands Centre focuses on children and adults with disabilities, the Children of the Caribbean Foundation thought that aligning with them would be beneficial in a lot of different ways… we could implement the programme in an institution that already had the facility, and we wouldn't have to worry about sustainability; we didn't have to worry about efficiency and possibly training staff.
"Junior has been reliable, resourceful and very responsive and efficient, so once we contacted him, the momentum picked up and we have been able to execute everything."
Hodge-Adams added that the Foundation provided the curriculum, furniture, and other learning and special aids necessary for the effective running of the pre-school.
Jackson noted that the Children of the Caribbean Foundation hosted a number of fund-raising events to support the effort, including an annual 5-kilometre run/walk in Los Angeles.
She said that the Foundation has a number of other events planned for the region, including a butterfly ceremony in Trinidad on December 1, coinciding with World AIDS Day, as well as an inaugural mentorship/basketball camp in Nevis, which, if successful, would be repeated in other countries.
The duo lamented that there are a number of needs in the region, including St Vincent and the Grenadines that can be helped by organizations like theirs and others, but these needs are not made known to the rest of the world.
"The foundation exists to help the children and help to raise awareness for our donors and they are willing to help, once they see what we are doing.
"We would hope that as people hear about Children of the Caribbean Foundation, and even though we are miles away, they can reach out to us and let us know what you need; we are here to help you, so if you don't ask, you don't get." Hodge-Adams said.(JJ)