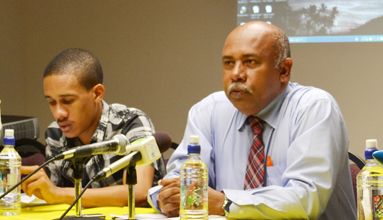 Ministry of Tourism launches video challenge for Tourism Month
As part of the numerous events and activities scheduled to mark Tourism Month, a video challenge competition has been announced by the Ministry of Tourism, Sports and Culture.{{more}}
At a press conference held at the NIS conference room on Friday, October 31, the Vincy Tourism 30 second challenge was announced, and is open to any member of the Vincentian public.
Rodney Small, a representative from the Tourism Planning Committee, gave details of the competition, which include: all entries must be submitted in digital format; each entry must focus on the theme 'Tourism is everyone's business'; the length of the video should not exceed 40 seconds (10 second title screen); the title screen should include the name of the lead producer or name of the submitting school; no copyrighted material can be used.
Minister of Tourism Cecil McKie said that he is pleased at the launch of this competition, and the various other activities and events scheduled to take place this month.
"It's a packed month of activities!" he enthused.
"We have to look to see how we can continue to refresh the tourism products that we have, to expand established new products, and to ensure that the destination continues to be competitive," added McKie.
The Minister said that he is encouraged by the steadily increasing number of stakeholders who have been getting on board with the celebration of Tourism Month, formerly Tourism Week.
"I'm sure that that can only result in the growth and development of the tourism sector."
The winners of this challenge will be announced at the Tourism National Awards and Cocktail on November 22.
For more information on how to take part, contact the Ministry of Tourism at: [email protected]