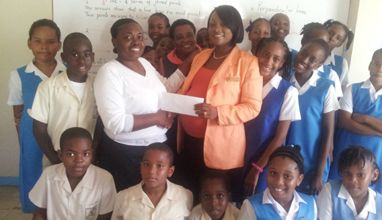 FCIB makes donations
The CIBC FirstCaribbean International Bank (FCIB) has come to the assistance of the St Mary's RC School, following a recent fire that destroyed some of the school's classrooms.{{more}}
On October 20, 2014, the bank donated $2,700, as well as a desk, a chair and a printer to the school, in an effort to assist the institution to return to normalcy, following a fire that took place on the evening of October 10, this year.
The fire destroyed the Charles Verbeke Centre, located at Victoria Park, which had housed the grade six pupils of the school. The students have been since relocated, and are continuing to prepare for the CPEA examinations.
The bank also made a donation to the University of the West Indies (UWI) Open Campus, for the hosting of the annual Independence lecture.
This lecture took place on October 23, and saw Dominican historian and author Dr Lennox Honychurch make a presentation at the Methodist Church Hall in Kingstown.
The topic of his lecture was: "None but ourselves can free our minds: facing our past to chart our future."
Sylvannus Horne of the UWI Open Campus received the donation, which was handed over by Business Support officer Jacintha Hinds, on behalf of CIBC FCIB.