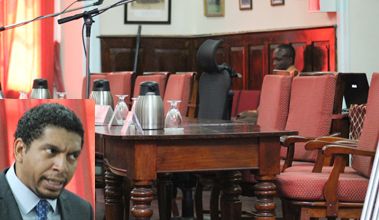 Opposition boycott of House perverse, says Senator
None of the opposition members of Parliament showed up when the House of Assembly met last Friday, because of "certain negative developments in our country."
According to a letter from Leader of the Opposition Arnhim Eustace to Speaker of the House of Assembly Hendrick Alexander, the negative developments include: "the continuing persecution of business man, Bigger Biggs;{{more}} the case of the High Court Registrar; the ongoing poor fiscal and economic situation, including the high and increasing levels of unemployment; the Clare Valley housing fiasco; and the Government's debt to the private sector; the state of the National Insurance Services, among others."
The letter from Eustace to the Speaker was dated November 24, 2014.
Prime Minister Dr Ralph Gonsalves, responding to the boycott, said the actions taken were irresponsible on the part of the Opposition.
He said while they outlined the matters with which they have issues in a letter, they passed up the opportunity to submit questions to be answered in Parliament.
"For the people's business to be properly addressed in the House, it is a requirement that the representatives elected by them come to the House to do their business. That is fundamental. Question time by the Opposition and other Members of Parliament who are not members of Cabinet is one of the most important parliamentary mechanisms to hold the Executive, to hold the Government to account," Gonsalves said.
Furthermore, the Prime Minister opined that the Opposition never intended to submit questions to Parliament, as some of the issues that were outlined in the letter had only recently transpired.
"The point I want to make Mr Speaker is that there is a potpourri, a make-up of reasons, like if you trying to cook a pot and you don't know what to put in it, so you take all your scraps here and there and throw it inside – this is what is happening in this particular case," Gonsalves said.
During last Friday's sitting, Senator Camillo Gonsalves also commented on the boycott, describing it as being perverse and an imitation of democracy.
"Mr Speaker, since it was announced, this tactic of non-cooperation, as enunciated by the vice-president of the New Democratic Party, has been a tactic in search of a justification. They said first they are not cooperating until the Prime Minister calls elections. Well, I don't know that this act, making his life easier, would make him want to call elections. From that original justification, that they will not cooperate until the Prime Minister calls elections, they have now written a letter which essentially says they would not cooperate till this or that host of maladies that they perceive to be existing in the country, until things get better," the senator said.
"Mr Speaker, that in itself is also perverse, because here we have an Opposition – let us accept every one of their accusations as accurate for the sake of this conversation – they make accusations that things are not well in the country; therefore, they will not come to Parliament to hold the Government's feet to the fire for the things that are not going well in the country…"
Senator Gonsalves declared that the Opposition's actions were acts of non-cooperation with democracy, with parliamentary practice and with the people of St Vincent and the Grenadines.
The Speaker of the House announced that he will consult with the standing orders in order to determine whether he will accept the letter as a genuine reason for not attending the sitting of Parliament.(BK)