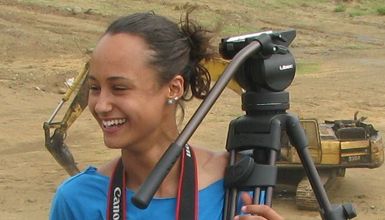 Aiko Roudette nominated for Alice Yard Prize for Art Writing
Vincentian Aiko Maya Roudette is one of five persons who have been shortlisted for the 2014 Alice Yard Prize for Art Writing. {{more}}
The prize, inaugurated in 2014, is an annual award for an original piece of critical writing on contemporary Caribbean art by a Caribbean writer aged 35 or under. The five finalists, selected from the prize entrants, are: Katherine Kennedy (Barbados); Stephen Narain (Bahamas/US); Brandon O'Brien (Trinidad and Tobago); Aiko Maya Roudette (St Vincent and the Grenadines/US); and Nicole Smythe-Johnson (Jamaica).
According to the Alice Yard website, the prize aims to encourage new writing on Caribbean art and artists, and to identify emerging voices in contemporary Caribbean art criticism. The winner, who will be announced in November 2014, will receive a cash award of US$1,000 and publication in The Caribbean Review of Books.
The Alice Yard Prize for Art Writing is conceived and established by the co-directors of Alice Yard, Sean Leonard, Christopher Cozier, and Nicholas Laughlin, who will administer the prize and support the panel of judges in their deliberations.
Roudette graduated from Bard College, a prestigious liberal arts university in the United States in May 2013 with a BA (distinction) in Film and Electronic Arts. She won the Maya Deren Prize awarded to one film major for excellence in and commitment to cinema. She is currently pursuing graduate studies in Film and Media Studies at Eugene Lang College, The New School, New York.
Her film "Hoghole,' shot in St Vincent and the Grenadines, has been screened at film festivals in NY, Canada, London, Trinidad, and SVG.
In June 2014, Aiko voluntarily conducted a Film workshop for St Vincent and the Grenadines Community College (SVGCC) students and graduates of the Fine Art Design and Cultural Communications programme.
Aiko Roudette is the daugher of art and design lecturer at the SVGCC Vonnie Roudette and sister of musician Marlon Roudette, who was named a cultural ambassador of SVG earlier this week.