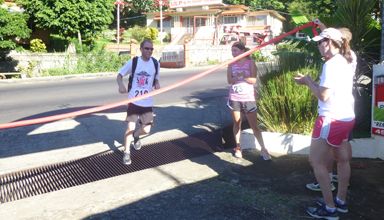 Breast Cancer Awareness 5K Run/Walk a success – Trinity School of Medicine
The first ever Breast Cancer Awareness 5K Run/Walk in St Vincent and the Grenadines took place last Sunday, October 19, from the Arnos Vale Playing Field to the Grass Roots Tennis Courts in Kingstown.{{more}}
The Run/Walk, which was spearheaded by students of the Trinity School of Medicine, has been described as an "overwhelming success" by its organizers.
Third term student Jennifer Miller said organizing a 5K run or walk in St Vincent was one of the goals she wanted to realize when she came to the country.
"I used to run back home in Denver and I really wanted to do a 5K here."
Miller said when she introduced the idea to Dr Rosalind Ambrose, president of the SVG Medical Association, Ambrose immediately took it on board.
The SVG Medical Association has, for some years now, organized an annual walk for breast cancer.
According to a release, the event was organized by Trinity AMSA, through a committee comprising its president, Chris Acab; treasurer, Callie Fleck; secretary, Ethan Burns; and Jennifer herself being the vice-president, initiated the project.
Both students from Trinity and members of the general public, including Miss St Vincent and the Grenadines Shadeisha George, participated in the event.
Bronze, silver and gold medals were awarded to third, second and first places in both male and female categories. In the male division, Trinity student Taylor Zoelle, clocking 23:59 mins, placed third. Another Trinity student Vincentian, Roniff Richards, finishing in 22:50 mins, placed second; and David Browne, running for the University of the West Indies Open Campus in SVG, came in first with a time of 22:33 mins. The females were not very far behind. Placing third with a time of 30:16 was Trinity student, Kathryn Dakkum. Vincentian Neiasha Alexander came in second in 26:44 mins; and Trinity student, Ginger Tissier won her category in a time of 26:26 mins.
Dr Ambrose expressed her elation with the success of the activity. She explained that when first approached, she was very excited that another group wanted to do something for breast cancer awareness.
"It is a fitness activity, a run for life!" she declared.
"I'm impressed at its execution, notwithstanding the many other commitments the students have."
Ambrose said she believes that the inaugural event was so impressive that it has effectively set the pace for next year's event.
"Next year will be bigger, better, brighter, bolder." she affirmed.