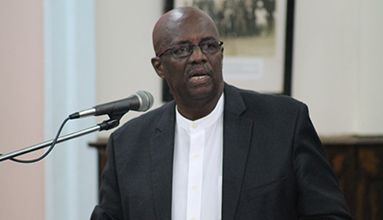 Publish list of students who got credit at UWI for Associate Degrees – Eustace
Leader of the Opposition Arnhim Eustace has asked the St Vincent and the Grenadines Community College (SVGCC) to produce a list of students who have benefitted at university by receiving credit for their Associate degrees from the SVGCC.{{more}}
Speaking on the New Times radio programme yesterday, Eustace accused deputy director of SVGCC Nigel Scott of hiding the truth from persons who pursued an Associates degree at the college.
"I hear Scott and so on from the community college making comments and so on about the students. He can say whatever he wants. I am saying that there are many students out there who have done Associate degrees and they can't get into the University of the West Indies with it and a number of them cannot get any time off from their university studies," Eustace said.
"They are a waste of time, as far as I'm concerned. You have the obligation to the students and parents of this country whose children are at that college to inform them of what the true situation is, the true situation. Don't fool anybody. Don't give them the impression that the Associate degree is what they thought it was, because some of them have been given wrong information by the same college."
Eustace, who is also president of the New Democratic Party (NDP), noted that if he had not raised the issue on the radio programme and then at a press conference a few weeks ago, nothing would have been said with regard to the Associate degrees at the SVGCC not being accredited.
However, since 2010, then director of the SVGCC Joel Warrican had addressed the issue of accreditation of the Associate degree programmes. In an article published in SEARCHLIGHT on August 13, 2010, Warrican said: "the SVGCC acknowledges concerns of some that the Associate Degrees offered are not accredited. However, on this issue, SVGCC is no different from any of the community colleges across the region; indeed, it is no different from the UWI Open Campus with its Associate Degree. Absence of accreditation does not mean that the Associate Degrees lack value, since students graduating with these degrees in countries across the region have been accepted into bachelor's degree programmes regionally and internationally."
Warrican, however, said recognising the importance of accreditation, SVG and some other governments of the Eastern Caribbean have recently established national accreditation bodies in their countries. He said accreditation is a process and the national accreditation body would be working closely with the SVGCC to have its programmes accredited. He also noted that in relation to accreditation, SVG is on par with other countries which have been offering Associate degrees for many years, in that they are all at the stage of seeking accreditation for their programmes.
As he spoke on the radio yesterday, Eustace went further and described Scott as being reckless for not informing students of the situation and made a call for the college to present a list of students who have benefitted at university by receiving credit for their Associate degrees done here at the SVGCC.
"He is accusing us of being reckless, but he is the most reckless man of all in that regard, because the students have not been told."
Scott, however, said in various radio and television interviews last week, that students were never misled about the status of the different Associate degree programmes.
The Opposition Leader also referred to a letter written by Permanent Secretary in the Ministry of Education Nicole Bonadie-Baker to Pro Vice-Chancellor and Chair of the Board for Undergraduate Studies, Mona, UWI, Professor Allan Cobley on September 17, asking him to clarify the UWI's regulations in relation to matriculation and Associate degrees from the SVGCC.
"… you see this letter going to the professor to ask them to clarify the policy. A policy in place since 2006 and the Ministry don't know what the policy is? And the community college board doesn't know what the policy is? Don't tell me no foolishness. Look after that matter so that the students can gain the benefits that they deserve from the college," Eustace said.
Bonadie, however, said she took the approach to write to the pro vice-chancellor because eventhough she is "quite familiar" with the policy of the UWI in relation to matriculation, she is "not authorized to speak on behalf of the University of the West Indies and most certainly not on the interpretation of its policies."
Cobley in his response of September 18 to Bonadie-Baker said persons holding Associate degrees with a minimum grade point average of 2.5 from tertiary level institutions in the region may use those qualifications to gain entry into degree programmes of the UWI. He said the UWI formally approved this policy in 2006.
Eustace is, however, adamant that students are not getting recognition for the associate degrees they hold.
"And you now know that a lot of those students will never be able to get the kind of recognition for those degrees that they ought to have had. And what about the future for those children who are now coming forward? But you're going on radio all over making all kind of statements and hiding the essential truth: that those degrees are not accredited and even where they are recognized, there is still a process to go through and there is no evidence of anybody of those students who are in the recognized category getting time off.
"And I want the college…to publish a list of all these graduates in all these years that have gone and got time off from the University of the West Indies. Give us a list of those who got it since you doing Associate degrees. Give us a list of those who got it and we'll see how many students in fact got that time off or got credit for courses they did in the Associate degree. That's what I want to see. Facts, not talk."
Eustace stressed that the issue was a very serious one and insisted that what Scott has said publicly with regard to the situation is a lie.
"It's a lie. Regardless to what Mr Scott or any of them want to say and I feel it for the students. You take two years of your life and you study, you expect well, that is one way to go forward in this world.
"You have the Ministry writing to university in 2014 asking for clarification of policy which the university has enforced since 2006. I must take those people there seriously?" he said.
"I don't know how much it costs for an Associate degree, but if it costs $3,000 a year or $4,000 a year, it's over a 1,000 students. So what you do?
You can't get back the time you have lost and people here come with all kind of flimsy, stupid excuses in relation to that and I am fed up to the core with that kind of reaction. People who are paid salaries to run the institution, now hiding behind a cloak of hypocrisy and lying on these matters. That has to stop."
In a press release on September 19, 2014, Scott disclosed that the SVGCC began the process of seeking accreditation in 2013, when they received a certificate of registration from the National Accreditation Board.
Also, the deputy director noted that well qualified students with excellent grades from whatever programme will always be considered for related higher education programmes. Furthermore, he stated that a significant number of SVGCC alumni are pursuing higher education at reputable institutions on the strength of their SVGCC earned Associate degrees.
Scott, in the press release, was responding to statements made by Eustace at a press conference on September 17, 2014, that the SVGCC is not on the UWI list of accepted tertiary institutions in any of the campus territories. He also said that the UWI accepts none of the Associate degrees of the SVGCC.
"They have no value whatsoever. They are not worth the paper they are written on," Eustace said then.