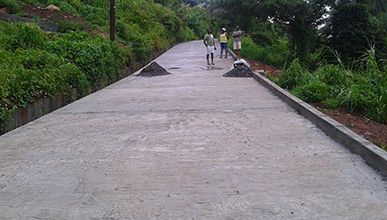 More waiting time for Gibson Corner families
Chief Engineer in the Ministry of Transport and Works Brent Bailey says that the four homeowners at Gibson Corner who are still waiting to be relocated to Pembroke, will have to wait until about January 2015 to commence construction of their new homes.{{more}}
Speaking briefly with SEARCHLIGHT yesterday, Bailey said while a section of the road giving access to the plots of land is completed, there is significant road work still left to be done.
"Let's say by January, next year, people will be able to carry on with construction on their lands," he added.
"The bottom road is finished and we have to repair some of the strips where the concrete road starts," Bailey told SEARCHLIGHT.
According to the chief engineer, most of the drainage systems are already in place, but he noted that the contractor still has to put in place the drain system for another portion of road.
"There is about 250 metres on the top road left to be done and there is about the same distance on the bottom road where the concrete strips came down," Bailey said.
However, before work can commence, Bailey said the money would first have to be secured.
"I would say in about tops, six weeks time these works should be completed. Again, I can't give account for rain and that sort of thing. Providing all things remain well, the contractor will be done in six weeks.
Construction work is being carried out by Willo Construction.
Bailey said since the concrete takes about 14 to 28 days to cure, heavy equipment will not be able to operate on the road anytime before that.
Gibson Corner was deemed an unsafe housing area on October 23, 1998 after heavy rains caused widespread land slippage, damaging several homes and forcing homeowners to vacate the area.
Twenty-eight families were displaced because of the natural disaster.
Most of the families have since been relocated to Pembroke and Diamond. However, four families who owned properties in the area are still languishing at Gibson Corner, while waiting on roads to be put in at Pembroke to allow them access to their new plots of land.
Since that time, Gibson Corner has become a haven for a handful of informal settlers, better known as squatters.
Despite a promise by the Physical Planning and Development Board in 2012 to control the presence of squatters in the area, the situation persists. Some of the squatters were on May 22, 2012 served with enforcement orders to vacate the area within a day after the date of service.
However, none of the squatters have moved. Instead, more persons have since occupied abandoned homes and erected small structures made from pieces of galvanized iron and tree branches.
In 2012, approximately 10 informal structures were erected. That number has since doubled.
The four families who were affected by the landslides in 1998 are still living at Gibson Corner.