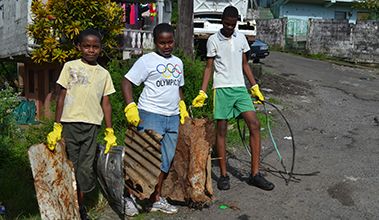 Green Hill clean-up: too much garbage in our streams
Fri, Sep 26, 2014
Saturday, September 20, saw youths and adults alike making a voluntary effort to rid the beaches and streams across the nation of the trash left behind or deposited by many inconsiderate Vincentians, who sometimes feel that if the garbage does not affect them where they live, then they don't care.{{more}}
Saturday, September 20, being marked as International Environmental Day, saw efforts being made to initiate cleaning on one tributary of the North River flowing into Rose Place, Kingstown.
The effort was spearheaded by the Green Hill Sports and Cultural Club Inc (GHSCC), supported by the Solid Waste Management Unit. The plan was to clean about a quarter of a mile of the stream, beginning from the main road (from the bridge next to the Stephens), northwards through an area known as "Rocks". This area has a number of residents living on the banks of the stream from where garbage is dumped into the stream, even though the Solid Waste Management Unit has a weekly pick-up system.
The decision to do a joint effort on the Rocks by the organization was because of the flooding caused in the immediate area and lower down in "Block 2000," Old Montrose, on December 24, 2013, as a result of the garbage thrown into this tributary.
Residents along the river bank on the "Rocks" were informed of the effort by face to face visits and through flyers. Some residents promised to assist, but on the evening only two persons showed up. Everyone seems to be blaming the others who live further upstream.
This, however, did not hinder the members of the GHSCC, who turned out to do what they could have done. A planned two-hour effort was however, shortened to one hour, due to the no-show of residents and the amount of garbage found embedded in the stream and along the banks. Items removed included: plastic and glass bottles, plastic bags and wrappers, galvanise, tins, iron, pillows, sheets, steel, among others.
It is clear that for the amount of garbage found at the top of this tributary, one could only imagine what it is like further downstream, in the following villages through which the stream passes: Bottom Sharpes, Kingstown Park, Lodge Village, Old Montrose, and New Town Village.
The GHSCC Inc is making a plea to persons residing along the tributaries contributing to the North River to utilize the services of the Solid Waste Management Unit, a service which you pay for through your water bill called the "Environmental Fee". There is also the free white goods collection being offered. We have to get serious if we are to live healthy and save lives. Let's be environmentally friendly. (Contributed by the Green Hill Cultural and Sports Club)