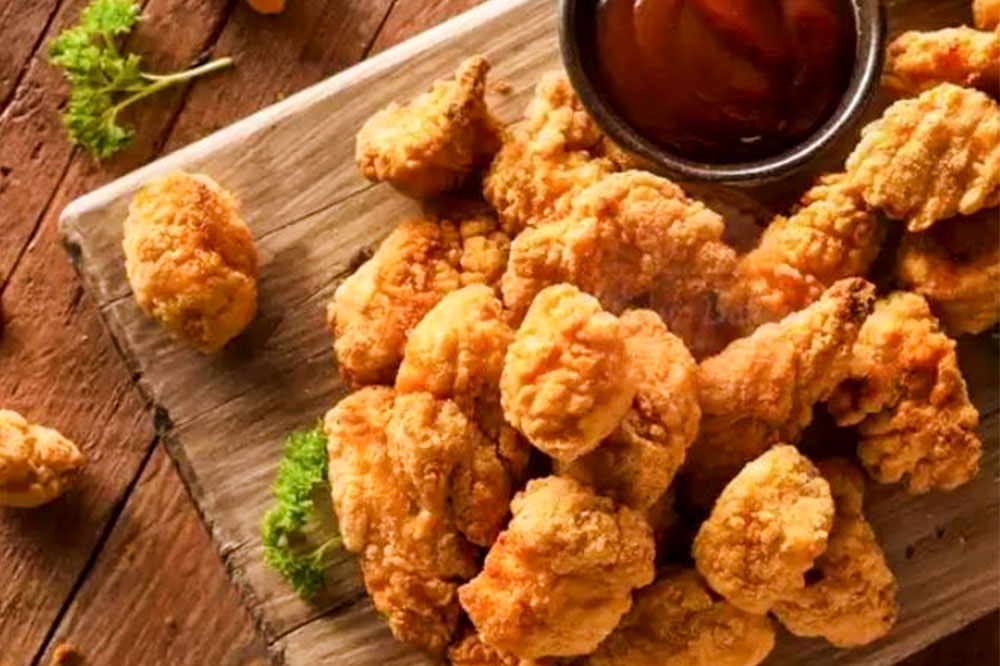 Kitchen Corner
October 11, 2022
Homemade Popcorn Chicken
You will need:
3 boneless, skinless Chicken Breasts or thighs- cut into bite-sized pieces
1 cup Starch
1 cup Breadcrumbs
3/ 4 cups Yogurt – plain
2 Eggs – beaten
3 tablespoons Paprika
2 tablespoons Garlic – powder
2 tablespoons Thyme – dried
2 tablespoons Basil – dried
1 tablespoon Onion – powder
1 tablespoon Black Pepper
1 tablespoon White Pepper
1 tablespoon Mustard – powder
1 tablespoon Ginger – ground
1 tablespoon Salt
2 teaspoons Oregano – dried
Salt
1 tablespoon Cayenne pepper – powder (optional)
Oil for frying
Method:
Mix all the seasoning blend ingredients in a bag or bottle. Place the arrowroot starch and one tablespoon of the seasoning blend into a bowl, mix thoroughly, and set aside. Place the beaten eggs, yogurt, and 1 tablespoon of the seasoning blend into another bowl, mix thoroughly, and set aside. Place the breadcrumbs in a bowl and set them aside. Prepare a serving tray to place the chicken once it's finished cooking. Heat oil in a frying pan. Separate the chicken into batches and fry each batch separately. Take one batch at a time, work with one piece of chicken, coat it in the arrow===root mixture, cover it in the egg mixture, coat in the breadcrumbs, and repeat this process with each piece of chicken. Place the chicken pieces into the frying pan giving them space to fry. Let cook for about 5 minutes. As the pieces are small it will cook quickly and should be golden brown. If you are using larger pieces of meat, lower the temperature of the stove and fry for a longer time. Remove from the frying pan and repeat with the other batches. Serve warm with your favourite condiments for dipping.