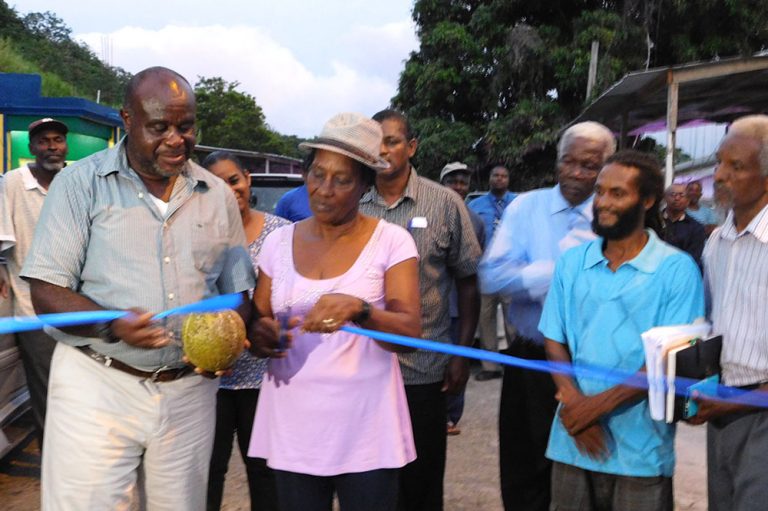 'Bigger Bigs' launches ABC farming co-operative
A NEW FARMING co-operative, established by Leon 'Bigger Bigs' Samuel will see members selling produce by the pound from colourful stalls.
At the launch of the Agri Business Co-operative (SVG ABC Limited) on Tuesday, April 24 at Yambou, Samuel, who is president of the co-operative, lamented the high price of local produce on the market, which he said is because retailers increase prices to make a profit. This he said, results in consumers purchasing cheaper imported produce.
"So we are recommending that farmers begin to sell their produce, retail the produce directly to the consumer. I personally believe that our country and our population is too small to have too many handlers handling the produce…," Samuel said.
He revealed a new type of wooden stall at the ceremony, which is to be leased to farmers. The stall, which has three levels and is painted in the national colours, would better display produce, Samuel said. He explained that the stall design is however not restricted and ABC is seeking sponsorship to construct other stalls.
Furthermore, he disclosed that farmers in the ABC will sell their produce by the pound, which would be cheaper than the methods currently used.
"We would be selling our produce by weight….That breadfruit, if you go by our SVG ABC vendor, it would cost $2.42. Definitely this would have sold for three [dollars], but with us it would be $2.42. Let's use this bigger one. This bigger one will go for $5 easy. The price for it is $4 by weight, so don't be fearful of weight. It all depends on how much the farmer decides on making a profit," Samuel said.
He elaborated that prices will still fluctuate according to the demand for the produce.
Jennifer Williams, the representative of the Co-operative Department in the Ministry of National Mobilisation congratulated ABC and offered full support. Chief Agricultural Officer, Ashley Cain applauded the new venture and said he believes the co-operative will improve the agricultural sector and motivate others to be entrepreneurial.
Feature Speaker, Jerry George, emphasised the importance of marketing local farming produce and urged farmers to negotiate prices before reaping to ensure they are not bid down. George said that consuming local produce is also a matter of maintaining a healthy lifestyle.
ABC currently has 27 members and the well supported launch saw attendance from representatives of the embassies of Venezuela and Taiwan, among many other people.
FARMER CORLETHA CAMPBELL (centre) with President of SVG ABC Limited Leon'Bigger Bigs' Samuel (left) cuts the ribbon to signal the beginning of operations of the co-operative.
A NEW TYPE OF WOODEN STALL painted in national colours is expected to be used by ABC farmers. The produce will be priced by weight
FEATURED SPEAKER Jerry George
REPRESENTATIVE of the Co-operative Department Jennifer Williams