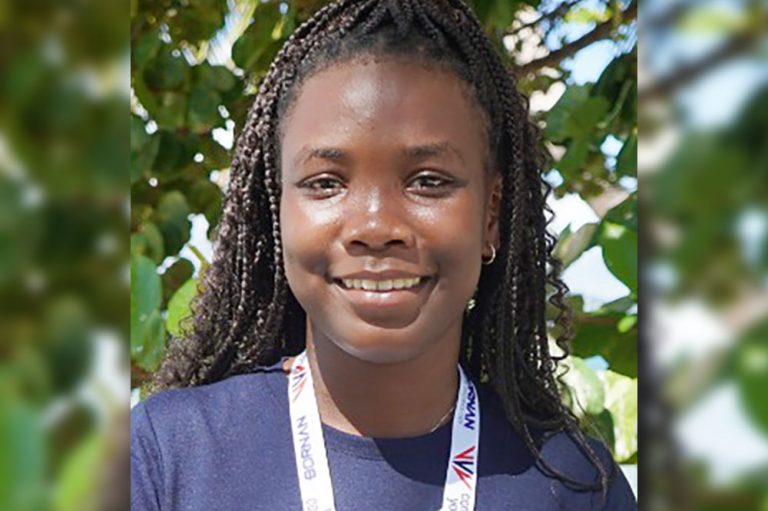 Front Page
September 5, 2023
Searchlight reporter published in international newspaper
Jada Chambers, a reporter with SEARCHLIGHT, has lent her writing prowess to an international publication, offering insight on one of the most pivotal events in the history of St Vincent and the Grenadines (SVG) as well as coverage of an international sports event.
The reporter by day and poet by night, was one of eight writers from Africa and the Caribbean, who contributed to the 'Youth Voices in Africa and the Caribbean – Stories told by local journalists' – a supplement produced by The Voice newspaper of the United Kingdom and the Commonwealth Correspondents Network, published on August 31 in the UK paper.
Chambers, 19, a former student of the Girls' High School and the SVG Community College is a member of the Commonwealth Correspondents network.
She landed a spot as a feature writer in the publication after being assigned by the network to cover the Commonwealth Youth Games held in Trinidad and Tobago from August 4 to 11.
"While there I was informed of the partnership between The Voice newspaper and the Commonwealth Correspondents Network and that they would like a story of my personal experience to be a part of the Supplement."
Chambers submitted three articles and one interview for the Supplement -'Baliceaux: A graveyard that must be protected'; 'Lessons to be learned from a fantastic Games'; 'Sisters praise 'royal' experience' and 'Why the Games matter'.
"The most enjoyable story to write for me was the Baliceaux Story. "I once saw a graveyard come alive," was my lede for the story. It was fun using an ominous and suspenseful voice in my story. I also liked that I got to share my opinion, which I'm not allowed to do as a news reporter. It was fun saying things like the island was being sold to become a 'billionaire's playground' and comparing it with the island of Gorée."
She admitted to being surprised that all her submissions were placed in the Supplement.
"I was told that only a few stories would be chosen to be a part of the Supplement but we weren't told which ones. I didn't know until I saw it."
Chambers said creative writing has over the years been therapeutic for her as it helped put words to thoughts and emotions that had been difficult to vocalize.
This publication is so far the most prestigious in the young journalist's career and she said while she felt capable of handling it there was still some pressure to produce exceptional work.
" I felt pressured because there were pieces of work attached to my name and my face and I felt that anything that is attached to me has to be done well. The other side of the pressure was that I considered that a lot of people might not be interested in the Commonwealth Youth Games, much less a personal experience from someone they don't know.
"And so I wanted to start close to home by asking the readers: 'Have you ever met someone who is hell bent on convincing you about something' I transitioned from that question to … talk about the Commonwealth Youth Games. I was very intentional about doing that because I wanted people to enjoy and not make it make it seem boring."
The Supplement has been published in acknowledgement of Commonwealth Year of Youth and ahead of the Commonwealth Youth Ministers Meeting and the Commonwealth Youth Awards which are taking place in London from September 11 to 15.
The Commonwealth Correspondents are students, writers and emerging youth leaders between the age of 15 and 29 years. Their work is featured on YourCommonwealth.org, a platform for the voices of young people from Commonwealth countries in Africa, Asia, the Caribbean and Americas, Europe and the Pacific to be heard.
Chambers took up duties with SEARCHLIGHT as a trainee reporter on October 1, 2022.