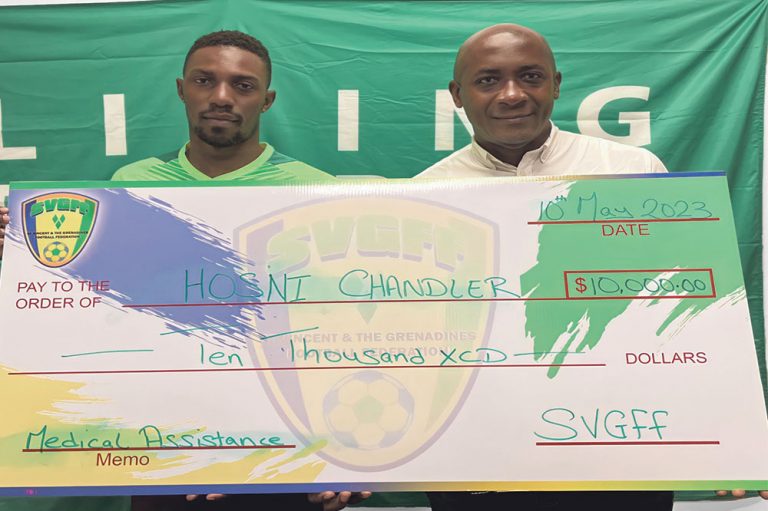 Football Federation Executive members donate $12,000 to Chandler's cause
The St Vincent and the Grenadines Football Federation (SVGFF) along with its president Carl Dickson, and committee member Michael John, have combined to donate $12, 000 to the cause of national footballer Hosni Chandler.
Accordingly, the national football body has given Chandler $10,000, with Dickson and John each presenting $1,000 to enable the ill player obtain medical attention abroad.
Speaking on behalf of the SVGFF, Dickson expressed delight at the gesture.
" We are happy to be able to make this generous donation as it shows the level of commitment to our footballers, their well being and their health," Dickson commented.
He disclosed that the $10,000 is from "local funds", generated from activities, namely- bar sales and admission fees to local matches.
"I would like to take this opportunity to thank the general public who supported the matches at the Victoria Park during the National Club Championships, whether by paying at the gates or patronizing the bar, as well as the SVGFF's Lotto Booth," Dickson expressed.
With this donation Chandler will be able to travel to Cuba, today, Friday, May 12, to have a Cardiac Catheterisation .
The 25 year old Chandler, a member of the BESCO- Pastures Football Club, experienced an irregular heartbeat, last November, after a game of football.
Later, it was discovered that Chandler has severe pulmonary arterial hypertension, deep vein thrombosis, a recurrent pulmonary embolism and left ventricular function issues.
This prompted his club to seek help to raise the $71,000 needed to have the surgical procedures done in Cuba.