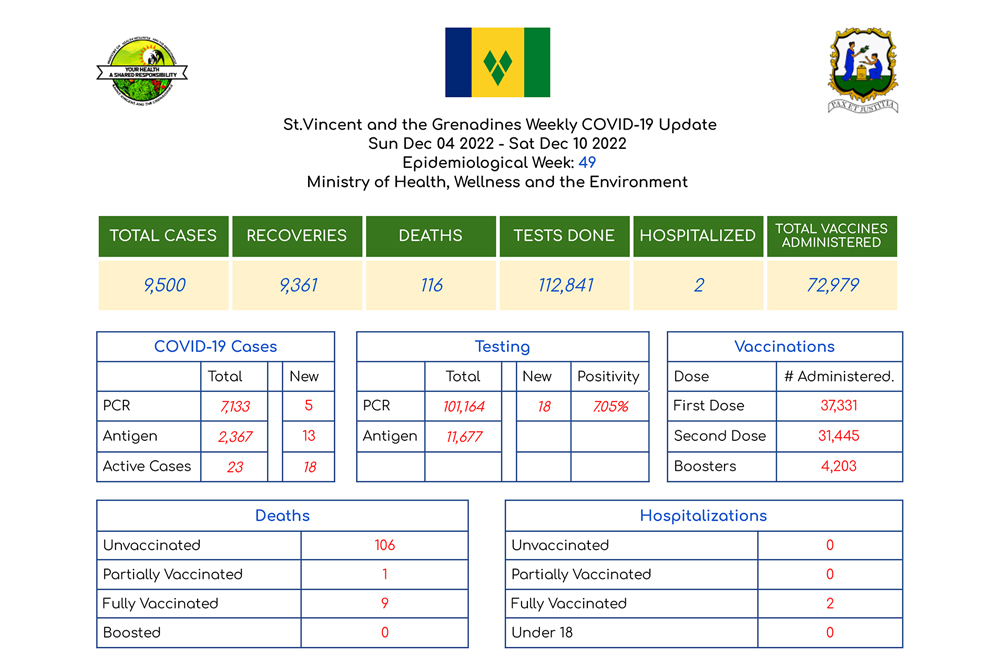 Front Page
December 13, 2022
Covid-19 numbers in SVG up to 23, highest since September 8
The number of active COVID-19 cases in St Vincent and the Grenadines (SVG) appears to be rising again, with known infections now at 23, the highest since September 8.
The weekly COVID-19 Update for the period December 4 to December 10, 2022 released by the Ministry of Health, Wellness and the Environment states that 18 new cases were identified during the period under review and of these, two persons are hospitalized.
COVID-19 protocols have largely been relaxed here, with no restrictions being placed on mass gatherings or persons entering the country. Mask wearing and sanitization, previously mandatory on entry at most business places are now only required at a handful of places, at the discretion of management.
An increase in cases has been noted worldwide, with the United States reporting 420 COVID-19 deaths this week, a 61.7 per cent surge over the previous week.
The US averaged about 65,569 new cases each day in the week ending December 7, a 49.6 per cent surge from the previous week, according to data of the U.S. Centers for Disease Control and Prevention (CDC).
Experts believe the real count of cases is much higher as many were under-reported due to at-home COVID-19 tests.
In the United Kingdom, COVID-19 cases are estimated to have topped one million again, with cases rising in England for the first time since mid-October, official figures show.