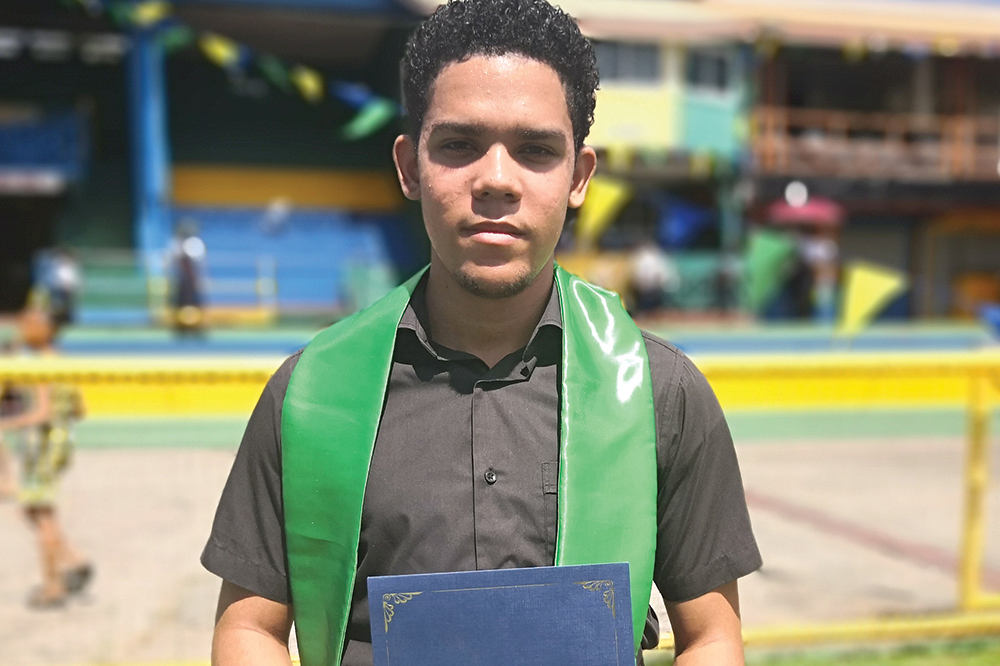 Front Page
October 28, 2022
Determination puts Bequia student in history books of SVG
A determination to succeed despite the odds has propelled an 18-year-old from Bequia into the history books of St Vincent and the Grenadines (SVG).
Alan Gooding, an aspiring software engineer, is the first student of an associate degree programme at the St Vincent and the Grenadines Community College (SVGCC) to be awarded a national scholarship.
He qualified for a national award by earning a GPA of at least 3.8.
The resident of Hope Estate, Bequia was one of 21 national scholars announced at the National Schools' Independence Rally at Victoria Park on Tuesday.
SEARCHLIGHT spoke with him shortly after he received his award.
A former student of the St Vincent Grammar School, Gooding had been enrolled in the Division of Technical and Vocational Education (DTVE), while all the other national scholars had been students of the Division of Arts, Science and General Studies (DASGS).
He said he decided to pursue an Associate of Applied Science degree in Information & Communication Technology instead of a purely academic programme at the DASGS because he wanted to get hands on working experience.
"I knew what I wanted to do …. I want to be a software engineer. So, I knew that doing an associate's degree, especially an applied associate's [degree], I would get the work experience, as there are attachments. I wanted to get straight into the working world, get experience. I love coding."
However, Gooding almost regretted his choice, giving the experience at the DVTE a failing grade.
He said among the many problems students in his programme experienced were poor communication and preparation for the course by the SVGCC and what appeared to be a lack of commitment by his teachers.
"We had a lot of problems in College. They did not seem to be prepared for a lot of stuff…."
He said at times, he would travel to school all the way from Bequia, only to be told when he arrived at the Arnos Vale campus, that there would be no school.
"There would be no email, nothing to say no school. A waste of time and money, and we would not be reimbursed; they would not even care," the young man said.
He said at times, teachers did not turn up to classes.
"The teachers were a big issue. We had to ask teachers to come to teach us….I would say it was a 2/10 experience."
But he was determined to succeed.
"To be honest, I did everything at home. I did my own research, I practiced, I just was curious, I went on the Internet. I learnt everything and I got the grades I got because I did extra research online. I did not learn much from school. I knew that I wanted to get a really high grade."
Jehan Carr and Sheacoy Walters, two of Gooding's classmates in the Information & Communication Technology programme were awarded bursaries at Tuesday's ceremony.
They supported Gooding's position that the experience at the DVTE was poor.
Gooding is the son of Murline Franklyn of Bequia.
He will commence an online bachelor's degree in Computing from Edinburgh Napier University in January.