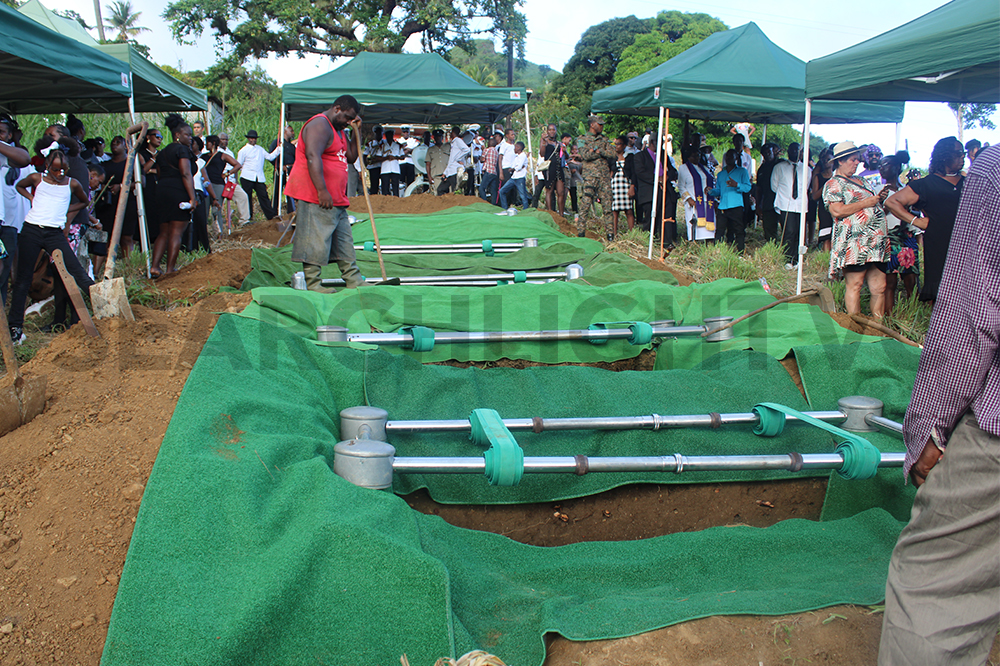 Front Page
October 21, 2022
Clare Valley five together even at the end (+Video)
DURING THE COURSE of their short lives, Khalil Robin, Govanni Barker, Kenroy Phillips, Elvis Logie Harlold and Ishmael Dorrel Bruce lived in the same community, spending many of their days together playing football, fishing and liming.
Even death could not separate the five, who had a joint funeral on Sunday October 16 at the Clare Valley Playing Field and were later laid to rest, side-by-side at the Chauncey Cemetery.
They have become known as the Clare Valley five and their lives were celebrated by hundreds of people on Sunday in what some described as the largest funeral they had ever attended. The service was paid for the by State and lasted some five and a half hours.
There were five separate eulogies and two tributes each for the men during the service, which was attended by Prime Minister Dr Ralph Gonsalves, Opposition leader Dr Godwin Friday and Parliamentary representative for the South Leeward constituency, Nigel Stephenson.
Miliaka Theobalds described Barker as a very disciplined young man who loved children even though he had none of his own.Theobalds said Barker had a great love for the sea and aspired to have his own fishing boat.
Robin was remembered by his cousin, Kenneth Coy, as someone who had a passion for life and was a dedicated father to his eight-month-old son.
Coy said Robin's death came just three days before his 30th birthday.
Bruce was eulogised by his sister, Kimorra Lavia-Adewale and his cousin, Hancel Bruce Joseph.
Adewale described him as a very generous man, who was always willing to assist anyone, especially his siblings. She said Bruce was obsessed with living a healthy lifestyle and had a love for farming and traditional medicine.
Harold was eulogized by his cousin, Donna Glynn who said he would often act like the man of the house growing up and was very protective of his two younger sisters.
She said Harold called the birth of his only daughter one of the highlights of his life and he had revealed to his family that he had big dreams for himself.
Phillips' cousin, Clarence Roberts described him as the hero of his family.
In delivering the eulogy, Roberts said Phillips had a positive impact on all in the Clare Valley community.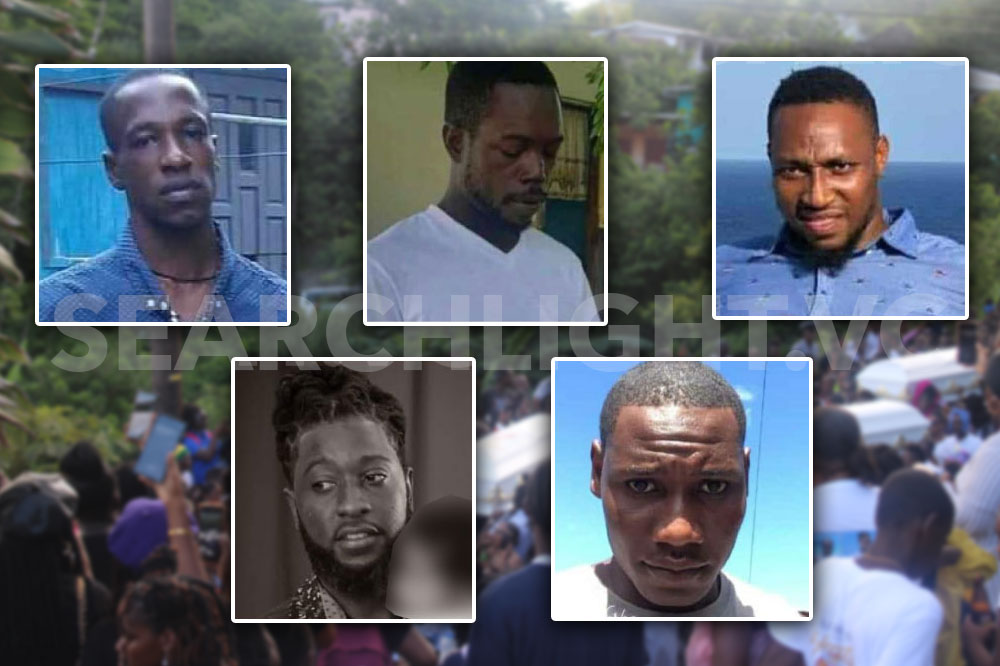 As he described fond memories of their lives together, Roberts urged the rest of his relatives and friends to treasure the good times they had with Phillips.
Prime Minister, Dr Ralph Gonsalves also paid tribute to the men and pledged to assist their families and offer a scholarship in their name for The University of the West Indies.
The Prime Minister also pledged another scholarship in the names of the seven students from North Windward who died at Rock Gutter when the passenger van in which they were travelling ran off the roadway and into the Atlantic Ocean on January 12, 2015.
Opposition leader, Dr Godwin Friday also paid tribute to the men. He said he struggled to find the words to bring comfort to their families and that it was impossible not to be moved by what he described as a national tragedy.
Having laid their beloved ones to rest, the families of the five Clare Valley men are now left with their memories as they seek to honour their legacies.