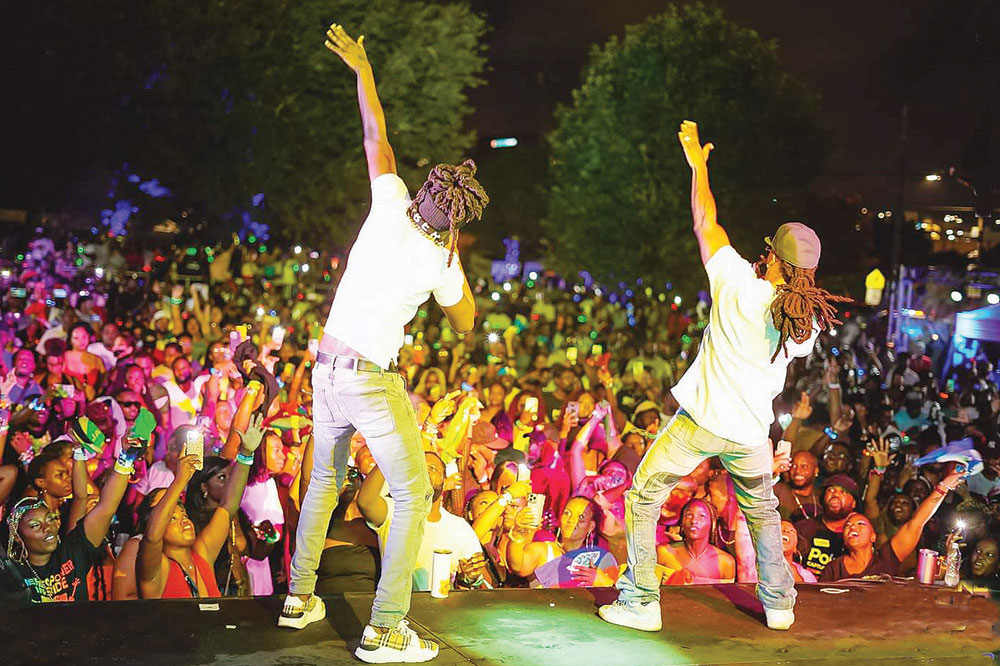 Front Page
October 14, 2022
Skinny Fabulous, Problem Child turn up Miami Carnival 2022
by Katherine Renton
Miami Carnival 2022 road march positions have been completely swept up by Vincentian acts, with Gamal 'Skinny Fabulous' Doyle and Shertz 'Problem Child' James taking the top title.
The two artistes who collaborated to produce the song "Danger" won the hearts of the Sunshine State's partying public.
'Problem Child', who also won the Miami road march in 2021 with his song "Crocodile", took it a step further this year living up to his lyric, "We go shell down everything like we have insurance", and also taking second place with his song "Insurance" or "Nasty Up".
Coming in hot in the third position is the playful "In de wata" by Rajiv 'Shurawh' Sutherland and 'Chow Minister'.
RELATED: Skinny's 'Famalay' grabs Road March crown in Trinidad and Tobago
The Miami Carnival, organized by the Miami-Broward One Carnival Host Committee, offers a full package including: Junior Carnival, Panorama, Jouvert and the Parade of Bands and Concert.
It has already kicked off preparations for Carnival 2023 after wrapping up with the Parade of the Bands and Concert 2022 last Sunday, October 9.
Yesterday, October 13, when the road march news broke, SEARCHLIGHT reached out to 'Problem Child' to get his comments on the clean sweep, which he said was "incredible".
Not only did Vincentians secure the top titles in 2022 and 2021, but Soca fans have pointed out that in 2019 it was "Famalay" by 'Skinny Fabulous', Machel Montano and Bunji Garlin; while in 2018 "Wet it Up" by 'Zeek' took it home.
"I was just telling someone yesterday or day before yesterday, that per capita, as far as soca music go, St Vincent is probably one of the more dominant countries- islands, in the culture," 'Problem Child' declared.
Mentioning hits like Dr Alston Becket Cyrus's "Teaser"; Kevin Lyttle's "Turn me on"; Jamesy P's "Nookie"; "Funky business" by Fimber 'Fimba' Jardine, he said, "it just goes to show the natural and raw talent that St Vincent and the Grenadines- that we have" per capita.
"We're like a giant," James said.
He contemplated that it was the country's natural love for music, adding "and we're also blessed."
"It's guaranteed the last couple of years – the last, many, many years as a matter of fact – there's at least one major song that comes out of St Vincent or that a Vincentian is responsible for, whether be performing or writing, that's dominating the soca market," he pointed out.
On the topic of winning the road march title in two consecutive years, the artiste revealed that "It's still surreal and I'm still wondering like – is that an actual fact?"
"I work very, very, very, very hard in my productions- in my compositions and it feels good to be rewarded. And what I like or what I respect about it, it is a different type of reward, because there are no financial gains," James also concluded.
There are Soca artistes from across the wider Caribbean jostling for the title and so he compared the feat to winning the World Cup, explaining, "You could win in your league, it's easy to win in your league, but to win the World Cup is a whole different task."
And Problem Child won this title, inspired by the Vincentian revellers.
"Our antics, how we party, how we behave at Carnival time, or at any soca event for that matter. I just sang in 'Nasty Up' AKA 'Insurance' about what we do, how we behave, how we revel. And it's no different in 'Danger'. Just sing about we do crazy stuff, we act wild and crazy."
He explained that he and 'Skinny' have been toying with the idea of a collaboration for some time, but the stars had to align.
"He (Doyle) said he thinks he has an idea for the collab and he came to me with the idea and we collectively put the song together. He started, and we collectively put the idea together and the rest is history," James recalled.
With veteran artistes like Doyle and James helping to push the Soca borders internationally, the artiste was asked what it would take to get the music genre to the Grammy's.
"To win a Grammy we need to just do music that the masses or the Grammy Committee and the rest of the world could relate to, but in so doing we might lose a lot of what makes us who we are," he said.
The outspoken 'Problem Child' also mentioned that it's "incredible" that none of the songs which placed at the Miami Carnival placed in the road march for Vincymas.
"I do wanna mention that it's incredible that none of these songs, 'Danger', 'Nasty Up' or 'In the Water' placed in road march in our own island. No placement, period."
"I'm not being malicious but I think it's a worthy mention. I cannot say why, but I just notice that, incredibly, a lot of times in our island a lot of songs that don't place for road march always end up doing very well in the aftermath. That's just incredible to me."
He said he feels that something needs to be re-evaluated.