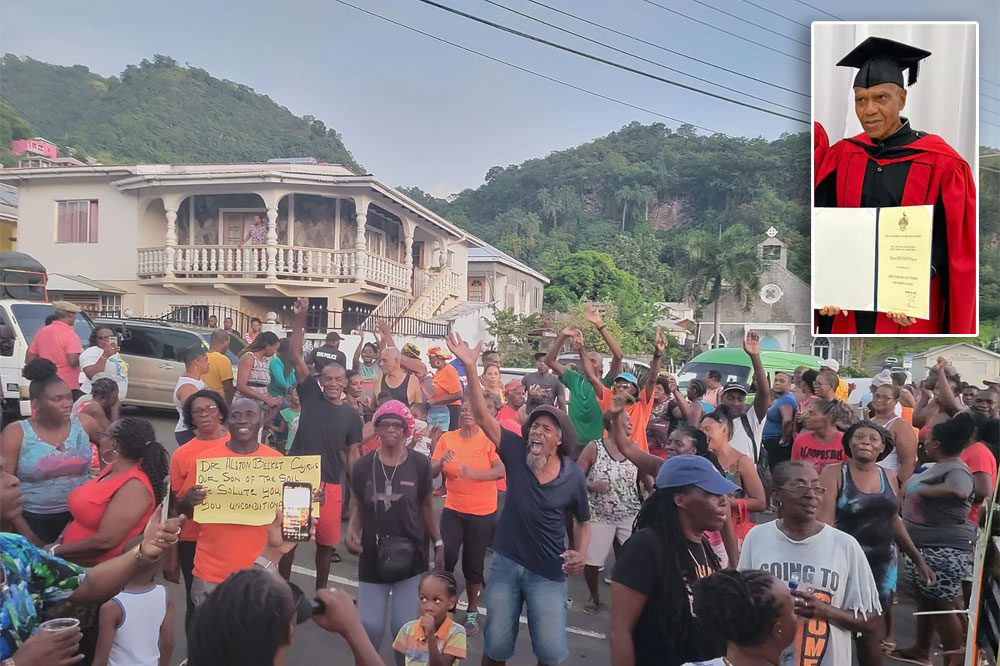 Front Page
October 11, 2022
Becket adds another jewel to his crown (+Video)
One of the Caribbean's most celebrated calypsonians and a son of Vincentian soil has added the title of Doctor of Letters to his extensive collection of awards and accolades.
Dr. Alston 'Becket' Cyrus touched down at the Argyle International Airport (AIA), on Monday afternoon, October 10 to a warm welcome reception, following his receipt of an Honorary Doctorate conferred by the University of the West Indies, Five Islands Campus.
Dr. Cyrus was one of 16 honorary graduands who were awarded at the ceremony in Antigua and Barbuda on October 8.
A cool and smiling Becket was greeted by a delegation from the Ministry of Culture at the VIP lounge of the AIA where he sounded off a rendition of 'St. Vincent I Love You', accompanied on pan by Jomoro Francis and Rodney Small.
"Between Antigua and here, this is the best week I've had in my career and I have had a long stretch. And to see this [reception] happening at home, it is a great feeling. I will never forget this day as long as I live, and I have a bad memory," Dr. Cyrus told attendees at the welcome reception.
Dr. Cyrus said the success he attained throughout his decorated career was made possible by the support of family and local musicians who encouraged him to hone his craft and experiment with various musical instruments.
He recounted his early days watching the practice sessions of one of SVG's leading music bands Asterisks, based at Layou, noting how the attention and tutoring of various individuals in the group helped him to master the steel pan.
"I wouldn't have made it this far without Asterisks, they played the riddim section on many of my biggest hits," Dr. Cyrus shared.
He called on the Carnival Development Corporation (CDC), to continue to support the art form and create avenues for the development of musicianship in younger artistes.
"It is something that I would love the CDC to do. You have to give calypsonians a little lee way to bring their musicians in on competition night. If they can't bring the whole band, let them bring the riddim section because it makes so much of a difference."
Lamenting the economic fallout he has suffered as a result of the COVID-19 pandemic, Dr. Cyrus described it as "the worst financial period of my life". He also said he was pained to have to miss the funeral of two uncles who were pivotal in the development of his musical career due to travel restrictions posed by the pandemic.