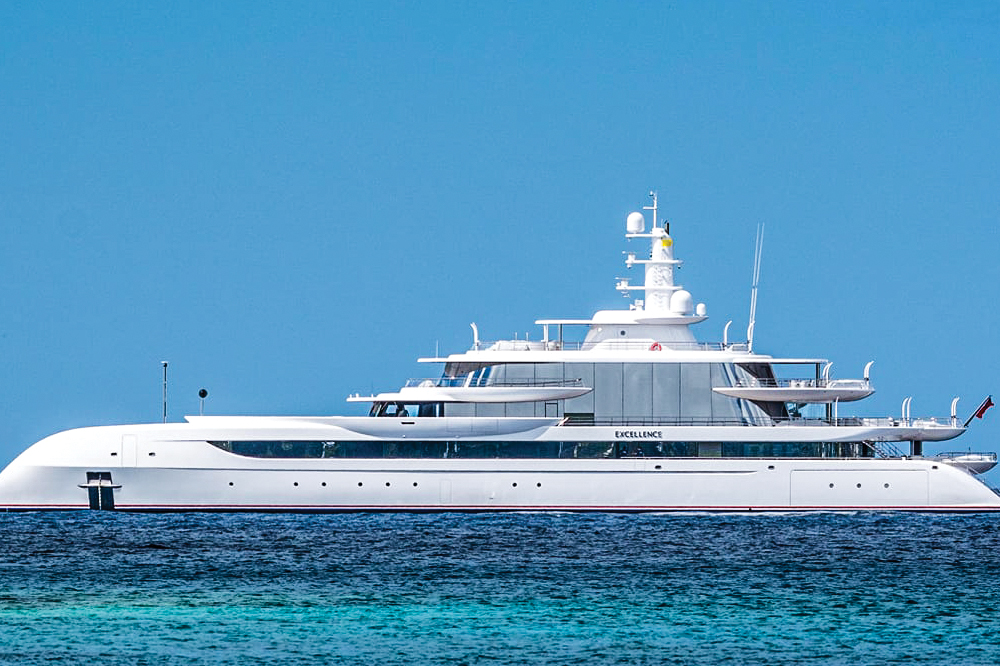 Front Page
December 18, 2020
We have increased COVID-19 testing in Mustique – CMO
As many as 300 guests and support staff from across the world are being welcomed to Mustique this weekend for a three-day wedding celebration of a Canadian billionaire and his Brazilian bride, even as COVID-19 cases spike in North America and Europe.
SEARCHLIGHT was reliably informed that all 89 villas on the private Grenadine island were completely booked, mostly by guests arriving to attend the nuptials of Lawrence Stroll, a Canadian billionaire and Mustique homeowner and his Brazilian fiancé.
Other guests who could not secure accommodation on the island have reportedly been undergoing quarantine on the several luxury yachts that have been anchored off the coast of SVG these past weeks.
Some overseas personnel engaged in preparations for the wedding are said to have secured accommodation on Bequia and have been taking speed boats to Mustique on a daily basis.
Prime Minister Dr Ralph Gonsalves mentioned this week that a wedding was scheduled to take place on the private island, whose villas are owned by some of the world's wealthiest individuals.
"We continue to be a veritable oasis in the turmoil which is going on around us. We see what's happening in St Lucia and Grenada now. We don't have community spread; we don't have anybody hospitalized for COVID; we don't have anybody who has died from COVID thus far," Gonsalves said while speaking during his weekly appearance on NBC Radio on Wednesday.
Grenada currently has the single largest cluster of positive COVID-19 cases in the Eastern Caribbean, having recorded 26 cases in one day, December 13.
These cases are said to have stemmed from a guest of the Sandals Resort and spread to the community through workers at the resort.
And the prime minister said workers on Mustique have to be tested and their movement controlled and monitored, because while SVG has never locked down, appropriate restrictions must be put in place to protect all citizens.
Dr Simone Keizer-Beache, the chief medical officer told SEARCHLIGHT on Thursday that testing is being done of workers moving between Mustique and mainland St Vincent, as well as those on the private island.
She also said that there are stringent measures and increased testing as it relates to visitors arriving on Mustique.
"We have increased testing in Mustique. We've been working closely with the health team in Mustique. We have, since beginning earlier on – but we have provided them with additional support…we have also requested that persons come in with 24 to 48-hour tests and we are doing additional testing at the airport besides the regular PCR…" Keizer-Beache said.
The chief medical officer said the protocols on Mustique and persons travelling on private jets have always required shorter periods of PCR testing prior to their arrival in SVG.
The medical professional also noted that the regular testing of workers on Mustique has also been in place prior to this weekend's wedding. She said testing at the airport started a few weeks ago.
These measures are being further ramped up.
The private island has been considered a bubble, and according to its website, visitors to Mustique must have a negative PCR test certificate and the result must be sent to the Mustique Company for pre-arrival approval to land.
All guests are also required to spend a minimum of five nights on Mustique before traveling again nationally or internationally.
Once on the island, persons must self-isolate until they receive a negative entry test result, at which point they are cleared and allowed to enjoy the surroundings without the requirement of wearing face masks or gloves.
Social distancing is enforced.
This Wednesday, the official count of the total number of COVID-19 positive cases recorded in SVG reached 100, the majority of which were imported. Eighty-two of these cases have recovered.
This country has seen a significant increase in positive cases in the past couple weeks with as many as 11 cases being recorded in a span of eight days.
All 18 active cases have been imported from countries categorized as high risk, including the United States, Canada and to a lesser extent, the United Kingdom.
As a result, new entry protocols were issued on Tuesday, with the major change being that persons from high-risk countries are now required to arrive with a negative PCR test that was completed within 72 hours or three days of travel.
In earlier protocols, the PCR test had to be done within a five-day period prior to travel.
Dr Roger Duncan, the medical officer in the Ministry of Health outlined the protocols for the entry of yachts on Wednesday, during his appearance on VC's Round Table Talk programme.
"When the yachts enter, they will immediately be tested upon arrival. That's the first test. They will quarantine on the yachts and after five days, they will be tested again. If they are negative at that point, we allow them to move around in a controlled way," Duncan said.
This "controlled way" involves yachties keeping a daily log of where they are, where they are going and what they're doing and the submission of temperature charts on a daily basis of all persons on board, including crew members.
This week's episode of Round Table Talk was titled "The Holidays amidst a pandemic".
Persons are reminded to adhere to protocols and advisories including the use of facial coverings, in an effort to reduce the risk of the introduction and subsequent spread of new COVID-19 cases in SVG.
Updated at 2:36pm on Friday, December 18 to include support staff among the number of persons visiting Mustique island this weekend in connection to the wedding of Canadian billionaire, Lawrence Stroll and his fiancé.