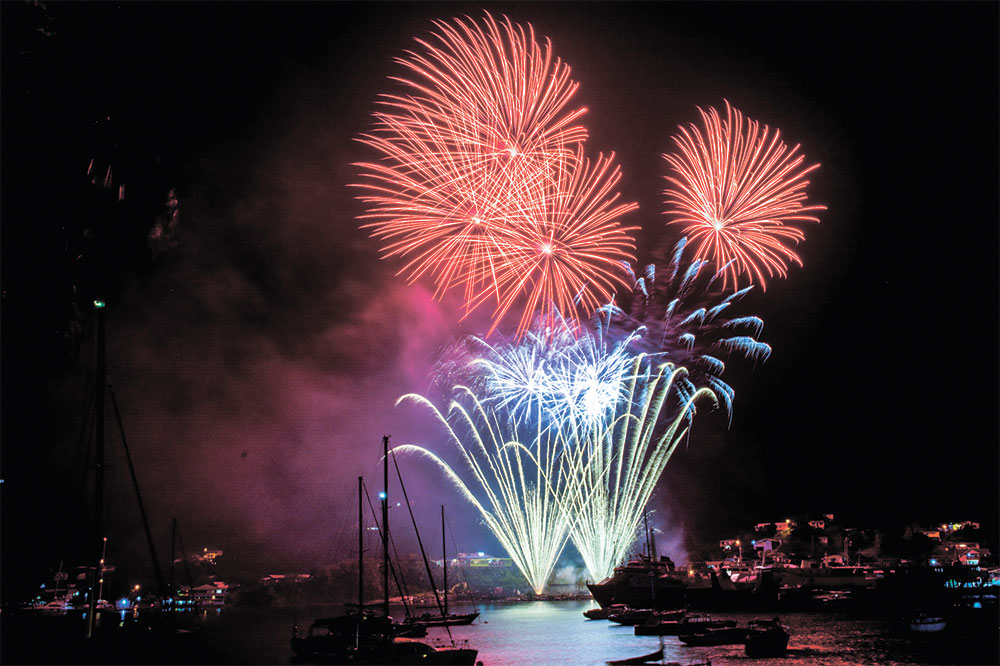 Front Page
January 4, 2019
Bequia's Fireworks Thrill Yet Again! (+Video)
BEQUIA IS enjoying a promising start to the season, with encouraging numbers of cruise ship and stay-over visitors discovering the delights of Bequia over the holiday period, and yachts of all sizes and nationalities thronging Admiralty Bay.
Thousands, including excited Bequia residents, crammed a multitude of bars, restaurants and all waterfront locations on old Year's Night, when half ton of pyro burst over the harbour on the stroke of midnight in a truly spectacular fireworks display which left the crowds stunned with delight and amazement.
Brainchild of Sir James Mitchell, his all-volunteer Bequia New Year's Eve Celebration Committee is solely responsible for organizing and mounting this magnificent annual New Year's Eve event. This year Canadian pyro-technician Adam Horton of Fireworks Fx was flown in to replace the Committee's resident pyrotechnical expert, and very grateful thanks are due to him and Fireworks Fx for their superb production.
Funds for the event continue to be raised entirely through the generous contribution of private individuals, local businesses and well-wishers, with import concessions provided by the Ministry of Finance, and permission to import granted by the Commissioner of Police.
Speaking after yet another fabulous fireworks display this year, Sir James commented: "Our dedicated Bang Gang working together with Fireworks Fx continues to earn the gratitude of all of Bequia and its many visitors. It is only through their selfless commitment that the island and its hotels, villas, guest houses and waterfront businesses are able to celebrate Old Year's Night in such magnificent style and start the New Year with a bang! After a long summer, finally the season can begin with renewed optimism. We look forward to more donors coming forward to ensure this magnificent event can continue in 2019."
https://www.youtube.com/watch?v=TjUqjamiTUs&feature=youtu.be
A full list of donors and supporters will be published in due course.