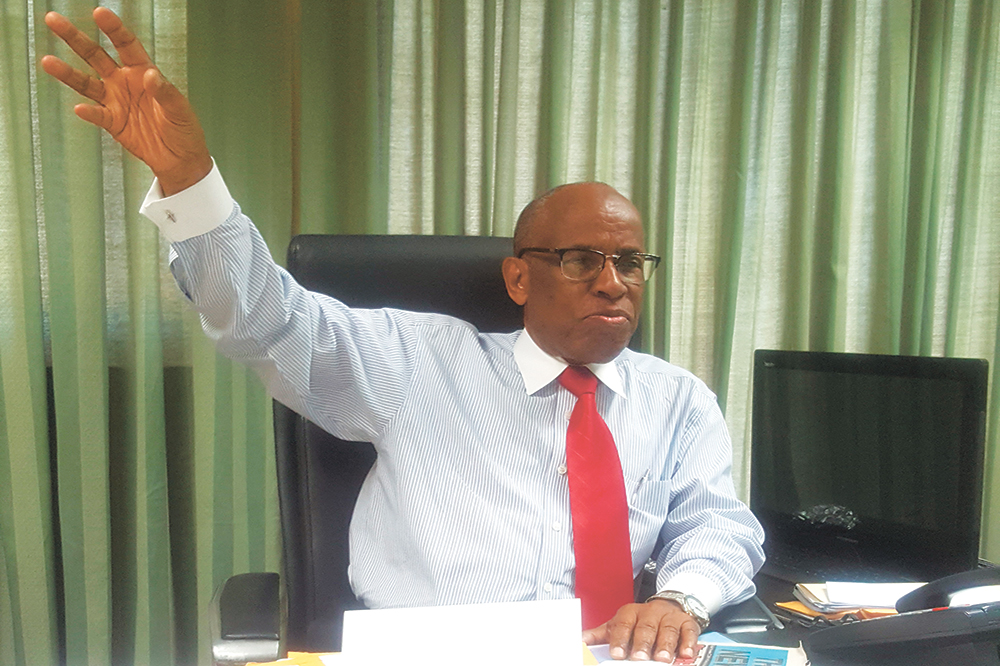 Front Page
April 27, 2018
Sir Louis renounced US citizenship in Feb. 1994
He who digs a pit, shall fall in it – Straker
by LYF COMPTON
"…HE WHO DIGS A PIT, shall fall in it," said Sir Louis Straker yesterday, as he finally made public, documents showing that he renounced his American citizenship before becoming an active member of Parliament over 24 years ago.
The display of documents came on Thursday, April 26 during an exclusive interview with SEARCHLIGHT, and 573 days after Sir Louis was given seven days by lawyer Kay Bacchus-Baptiste, acting on behalf of the New Democratic Party (NDP), to show documents that prove he is not a citizen of the United States.
Sitting in his office at the Ministry of Foreign Affairs, Sir Louis commented, "…If they dug a pit for me, they dug it for the Leader of the Opposition, he has the same problem…. If they think they have dug a pit for me, they have really dug a pit for themselves…," Sir Louis said chuckling.
Sir Louis's documents include a United States of America (USA) Certificate of Loss of Nationality and show that he renounced his American citizenship on February 1, 1994. He was elected to the Parliament of this country for the first time on February 21, 1994.
"I expatriated myself on that same day, February 1st, 1994, that I went to the Embassy," stated Sir Louis while noting that only a few persons in the Cabinet of Ministers have seen the documents that he showed to SEARCHLIGHT.
When asked why he took so long to make the documents public, Sir Louis laughed and responded, "let them (the NDP) 'palard'.
"You know when you are armed with the truth and when you know what you know, people can go on talking as much as they want to talk, people can go talking for much as they want. Let them talk because you know what you have."
He said a couple years ago, when questioned about his US citizenship, he told another media house that it was a non-issue, but persons still insisted he was lying.
"…573 days now I waiting for them to put to me to the High Court," said Straker, referring to a letter written on September 30, 2016 by lawyer Kay Bacchus-Baptiste in which she gave Sir Louis seven days to prove he was not a US citizen.
"I represent along with a team of lawyers including overseas counsel Mr Ben Exeter candidate in the Central Leeward election and various persons entitled to vote in the said Central Leeward elections…. My clients have instructed to me to request your resignation within seven days or produce proof of date of any renounciation (sic) of your US citizenship, failing which a high court action will commenced (sic) to hear and determine the question…," part of Bacchus-Baptiste's 2016 letter said.
"They called a press conference down in Layou on the issue. I couldn't past here (in front the Financial Complex) for some of their supporters who would shout 'When you going to give up your citizenship?' and if I happen to walk under there (the Electoral Office)…," said Sir Louis.
He noted that there was even a letter signed by a group of residents of the Central Leeward constituency asking for his documents, but during every election campaign, he told his supporters and the people in Central Leeward that everything was fine.
"I talked to a lawyer and the lawyer said don't bother with them because if they are alleging, it is a fundamental principle of the law of evidence that he who alleges must prove, which is why I did not feel obligated to come forward," Sir Louis explained.
"I have decided to do it now and not before, because I did not want Kay Bacchus to think that she was putting pressure on me and I had to answer in response to her. I gave her almost 600 days for her to prove what she was saying because she said she had the evidence."
He added that some have commented that his name is still on the voters' list in the United States, but if that is so, it is not because of any fault of his.
Sir Louis said he is aware that some may say the documents presented to SEARCHLIGHT are fake, but they bear the seal of the Department of State of the United States.
"The seal is original, and they are going to be so ashamed that they are going to say the documents could be fake.
"They going to say they finally flush me out, but it couldn't be, because I gave them 600 days, almost two years for them to prove. They say they had the evidence, so if you had the evidence you should go to court with it. Why didn't they go to court?"
Last Tuesday, in a letter to the editor of SEARCHLIGHT, pharmacist and social commentator Matthew Thomas questioned the constitutionality of the tenure in Parliament of Leader of the Opposition and Member of Parliament for the Northern Grenadines Dr Godwin Friday, who is a citizen of Canada, which is a Commonwealth country.
Although Section 25 of the Constitution of St Vincent and the Grenadines says a Commonwealth citizen of age 21 years and upwards is qualified to be elected as a representative, Section 26 (a) states that "No person shall be qualified to be elected or appointed as a Representative or Senator if he is by virtue of his own act, under any acknowledgement of allegiance, obedience or adherence to a foreign power or state."
Thomas questioned Friday's eligibility to sit in Parliament on the basis of Section 26(a).
"I point out by our Constitution, that if you hold dual citizenship, you're not eligible, if this second citizenship is by your own act, you can't be a representative," Thomas opined on Monday.
The Canadian Oath of Citizenship reads: "I swear (or affirm) that I will be faithful and bear true allegiance to Her Majesty Queen Elizabeth II, Queen of Canada, Her Heirs and Successors, and that I will faithfully observe the laws of Canada and fulfi l my duties as a Canadian citizen."
A local Constitutional expert agrees with Thomas.
"… It makes a lot of sense in that it brings into question, Dr Friday's tenure as a member of Parliament, a position he has held since 2001. It seems to me that Section 25 is subject to Section 26, which means that the contents of Section 26 take precedence over those of Section 25," the lawyer said.
"It is a serious thing because it may be a breach of the Constitution, [Dr Friday] being born in St Vincent and migrating to Canada as an adult could only have obtained Canadian citizenship by pledging his allegiance to that country. It seems to me that if he gained Canadian citizenship as a child he would have been helped by Section 25, but as it stands there is some merit in Matthew's article," the legal expert added.
Anyone who is determined by the High Court to have taken up a seat in Parliament when he or she was not qualified to do so, may be subject to a fine. (please see story on page 3)
SIR LOUIS STRAKER (left), going through documents with Editor of the SEARCHLIGHT Clare Keizer at his office on Thursday. When asked why he took so long to make the documents public, Sir Louis laughed and responded, "let them (the NDP) 'palard'.