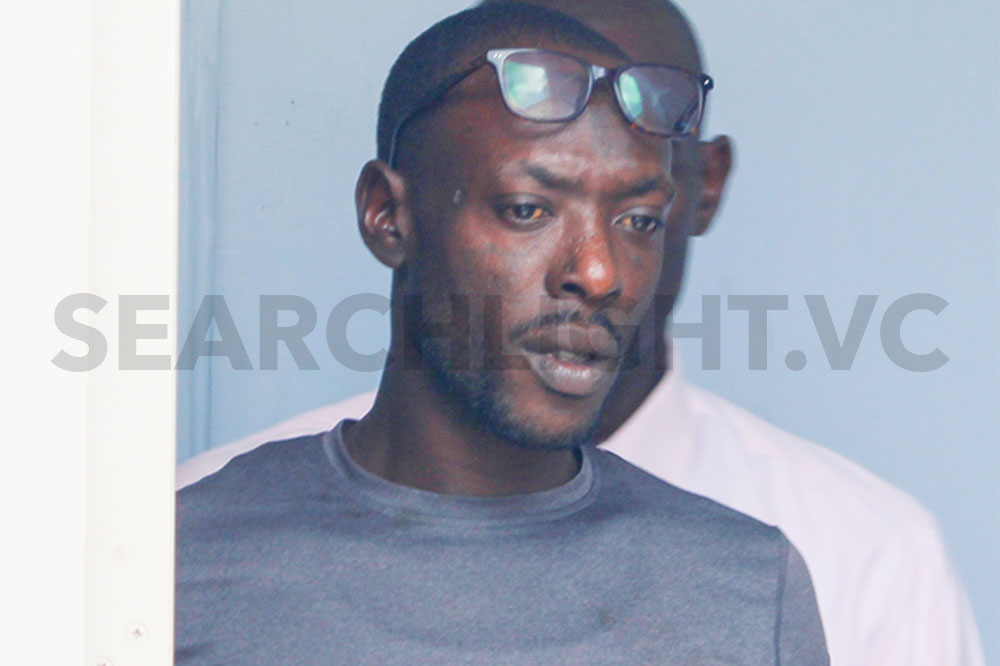 From the Courts
October 11, 2022
Man receives jail sentences for September crime spree
FOR THE month of September a Belvedere resident who was busy engaging in a number of break-ins has been sentenced to serve a total of 23 months in jail.
Thirty-two-year-old Issacher Simmons has also been ordered to pay one of his victims $150 in compensation. Simmons began his string of dishonest acts on September 5, when he broke into a Suzuki Swift with the number plate P7235, belonging to Tevin Thomas of Prospect.
According to the facts read at the Kingstown Magistrate's Court (KMC) on Friday, September 30, Thomas had parked his vehicle in his yard at Prospect on the afternoon on this date.
The next morning, at 7:15 a.m, he returned to his vehicle and discovered that the right front door was open and damaged. He checked and saw that items left inside from the night before such as his backpack, engine oil and cash were missing.
Some days later, on September 11,Thomas saw Issacher Simmons, whom he knows very well, at 'Small Eye' shop in Prospect carrying the backpack that was taken from his vehicle. He reported the matter to the police and they took Simmons into custody on September 28.
Simmons told the law enforcement officers that he was using the cologne and backpack but he burnt the other items taken from the car.
He was charged with theft and damage to property.
The defendant revealed that he has no permanent work but works temporarily on trucks, and trims yards sometimes.
Senior Magistrate, Rickie Burnett asked Simmons why he broke into the vehicle, took the items, and burnt them; "because they didn't belong to you."
Simmons responded with "That is true. I accept that and I done accept everything already."
Burnett asked him what he accepted.
"Everything," Simmons said, adding that it was his fault.
The magistrate noted that he was trying to find out why he did this.
"At the time me nah been work and all them ting there and pressure," was the response.
"Mister that's the nature of this thing eh? That's the nature of life," Burnett commented.
The judicial officer noted that Simmons had gone to Thomas's property and damaged his vehicle but is not able to return Thomas to the position he was in before his vehicle was damaged.
"…He goes into the man's vehicle and removes the items, none of the items were recovered – he has no money to compensate the complainant so in the end, who is the loser in all this? The complainant," Burnett pointed out.
"…I am likely to send the defendant to prison, what is the complainant going to get for all this? I mean this would hurt anybody. This would hurt anybody. You parked your vehicle at home, you troubled no one," the magistrate said.
Thomas was also in the courtroom, but he said he didn't have anything to say about the matter.
Holding up his hands as if to make a gesture of giving up or "what can you do", the victim noted "because I can't be compensated."
"That is the point. He(Simmons) doesn't have anything to compensate you and that is the problem. Most of the defendants who come to court – they have nothing at all. And they are trying to take from persons who they believe have," Burnett concluded.
Fifteen days after this incident, Simmons was back at it again, with a successful haul from a shop belonging to one, Anita Laidlow.
It is not the first time that Laidlow's shop, located at Diamond has been broken into and therefore the magistrate recognized her.
This time the shop, which she has been operating for seven years, was depleted of $772.50 worth of items including ketchup, mayonnaise, macaroni, spaghetti, milk, cheese, various drinks, ground beef, tracksuits, skirt and pants suits, romper, and slippers.
The shop owner operates her establishment on Friday and Saturday nights.
On September 20, she secured her shop at about 4:00 p.m, locking all doors and windows, but didn't return until September 22, at about 10:37 a.m when she received information that her shop had been broken into.
When she arrived she noticed that the door on the northern side was damaged and appeared to have been tampered with.
She called the police and they discovered that the items inside the shop were missing.
The defendant became a suspect in the matter and admitted to the offence when the police located him.
In court Simmons explained that he used items such as the ketchup and beef, but sold the clothes.
"Why y'all do these things to persons who are trying to make a living for themself? I don't know the lady, she doesn't appear to be rich to me, not that I could determine rich people from poor people – but she has to struggle to survive as well," the magistrate commented.
"The reason why she has a shop is that she wants to employ herself and not be depending on Government or depending on anybody," Burnett pointed out.
He asked Simmons what is going on with him, "You are moving from place to place as though you are the Mayor of East St George."
"Again, the shopkeeper is $772.80 poorer. I mean, tell me how this could be right," Burnett queried.
Simmons said it was wrong.
When looking at the defendant's record, the magistrate realized that Simmons had been to prison before. He noted that the defendant had not been 'inside' in a while but that he was going back.
"I accept that, cah I wrong," Simmons said.
"Yeah but you will go in and come back and do the same thing," the magistrate told him.
The defendant disagreed. Burnett asked him why he committed the crime.
"Is me mind," the defendant replied.
"Well change your mind. You think she got the items free?" the magistrate asked.
"No I know that," Simmons said. Burnett asked him what was going on with him. Simmons had no response.
"Y'all have to stop this thing man. Allow people to live their lives in peace."
The third matter was an attempted burglary of a building belonging to Junior Thomas.
Junior or "Small Eye" secured his shop at 11:30 p.m, on September 23, and at 11:57 p.m he received information that the defendant was at his shop trying to get into the building. When Junior arrived at 12:30 a.m, he found that one of the door locks was damaged.
Prosecutor, Corlene Samuel revealed that the first victim saw Simmons at "Small Eye's" shop.
"The shopkeeper explained that he allows Simmons to sleep by the shop in case anyone comes and tries anything."
"He could wake up and try say something. Never know he watching my place."
The Magistrate decided to remand Simmons over the weekend and sentence him Monday, October 3.
"Where he is going is not a- that is settled, he is going to the prison. As to how many years he's going to get, I will tell him on Monday and provide the basis for my sentence," Burnett had said.
For the burglary he decided on a sentence of one year and two months. For the attempted burglary, Simmons was sentenced to six months jail time. On the matter involving Tevin Thomas, Simmons was sent to prison for three months for the theft; while for the damage to property he must pay $150 to Thomas by December 31 or serve one month in prison.
All sentences on different dates will be consecutive.