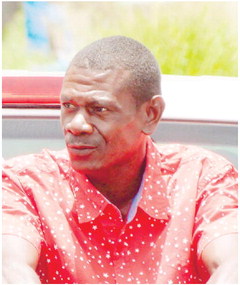 From the Courts, Searchlight
April 20, 2018
Fitz-Hughes man gets for nine months jail time for using counterfeit cash
ONE MAN LEARNT of the very real consequences of using fake money to buy alcohol and cigarettes, as he was sentenced to spend nine months in prison.
Charged with three counts of using counterfeit currency, Gilbert Small of Fitz-Hughes, pleaded guilty to all three counts before the Kingstown Magistrate's Court, this Tuesday.
Small, 49, had apparently bought beer and Guinness from two separate shops in North Leeward and cigarettes from another shop on April 14. On each occasion, he was said to have paid with a counterfeit $100 bill and given genuine currency as change. One of the shopkeepers realized that the bill was fake and when others heard about it, they too checked and realized that they had been duped.
Senior Magistrate Rickie Burnett was unimpressed at the defendant's actions. "What did you expect? The shopkeeper in the country would have known… If it was the only hundred dollar bill…he/she would have known," he intoned.
"Poor shopkeeper… trying to make a dollar," he said, while noting that the accused had done small transactions while paying one hundred dollars.
None of the money was recovered from Small, therefore the Senior Magistrate asked the accused why he shouldn't be sent to jail.
The defendant showed no change in emotion when Burnett said that he would give him the deduction in time for having pleaded guilty, but noted that Small had been to prison before. He also showed no change in emotion when the Senior Magistrate said he was minded to impose a prison sentence.
Burnett, in delivering the sentence told the accused, "reflect on what you did to your brothers and sisters in North Leeward." In a rebuke, the Senior Magistrate told accused he should be ashamed of what he did to the shopkeepers.
GILBERT SMALL pleaded guilty to using fake money to buy alcohol and cigarettes