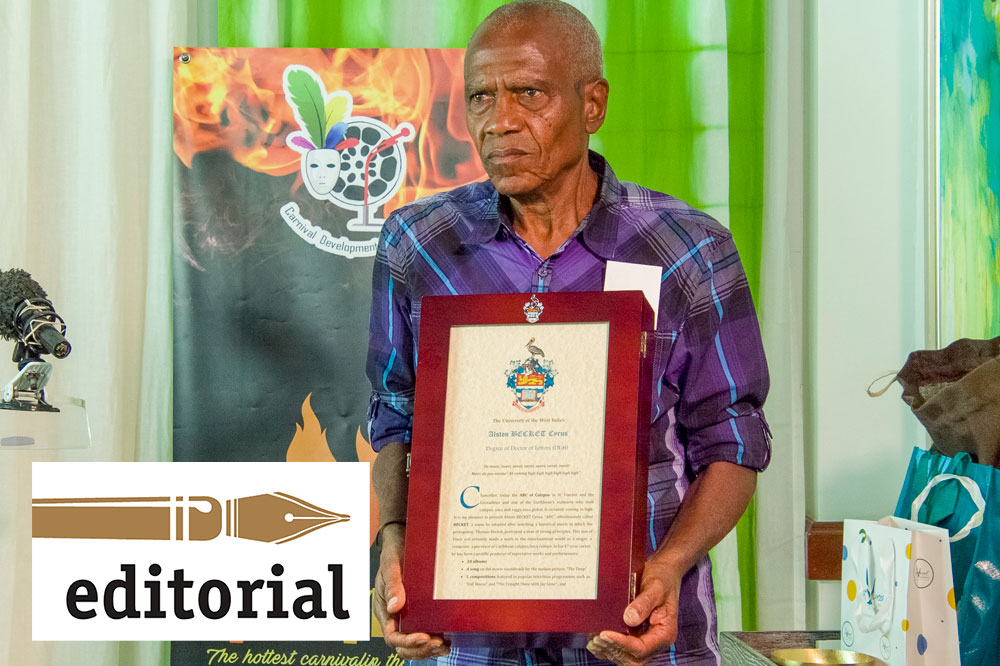 Editorial
October 11, 2022
Dr Alston Cyrus – an honour well deserved
Even as we extend our condolences on the passing of yet another sports personality of yesteryear, in the person of cricketer Elliot Cambridge, partner of the legendary Frank Mason; and entrepreneur Dwight Hillocks, we can be tempered in our grief by the pride we all feel in the award by the University of the West Indies of an honorary degree, Doctor of Letters, to the incomparable calypso bard, Alston "Becket" Cyrus.
Dr "Becket" Cyrus received the honour at a ceremony in Antigua last Saturday. He is the second local cultural icon to be so honoured, following in the footsteps of the "Maestro" himself, Dr Frankie McIntosh, similarly decorated by The UWI last year.
The continued commitment of the region's premier educational institution to reach beyond its narrow academic walls and social parameters, to officially recognize persons who have contributed significantly to the development of our region is a positive and most welcome development which must be continued and cherished.
Vivian Richards, Usain Bolt and the Mighty Sparrow have done as much as any academic to lift the Caribbean's profile in the world. We all rejoice and swell with pride in this achievement of our beloved son of the soil. Let us also not forget his faithful backing band, Asterisks, of Becket's beloved home town of Layou.
The recognition and respect have not come easy as the calypso supremo will attest. His return home and entry into the local calypso kingdom had a revolutionary effect and history has shown that revolutionary ideas initially often trigger negative reaction.
There are those in the calypso fraternity, fans and a few calypsonians, imbued with jealousy who gave succour to that "night of shame" in 1976 at the Geest Shed when "Becket", the reigning calypso monarch was literally stoned out of the competition.
This only seemed to inspire this calypso genius to new heights and with Frankie and the Asterisks, he rolled out composition after composition, album after album, taking Road march after Road March. In the process he firmly placed his imprint globally as SVG's most famous calypsonian and one of the very best in the Caribbean.
It was not just his voice and infectious music but also the cultural relevance of his compositions. Which other calypsonian can claim to have influenced the outcome of a general election as Dr Becket did with his 1984 album. The late John Horne didn't even have to campaign after Becket's "Horne fuh dem".
His is an honour richly deserved, an honour that he is only too willing to share with his country. We cannot stop there, for the Ministry of Education, the Department of Culture and the Calypsonians Association must now devise a programme to ensure not only that we enshrine his legacy but that we utilize it for future generations.