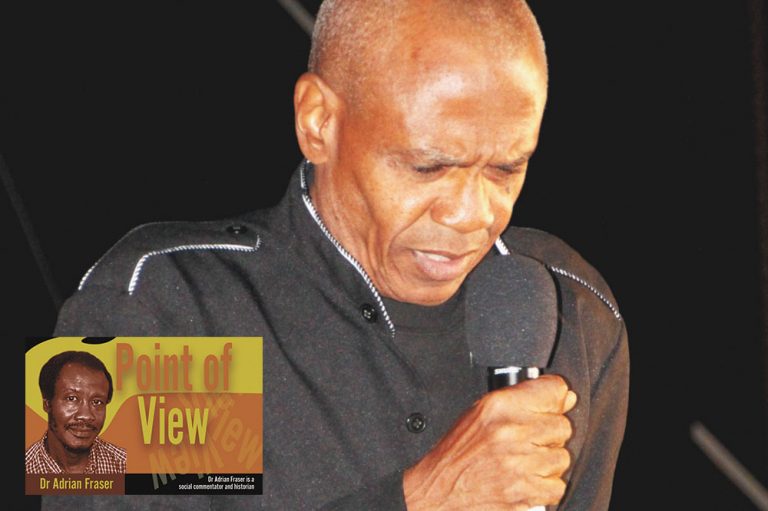 Dr. Fraser- Point of View
October 14, 2022
Congratulations to Dr ABC
Alston BECKET Cyrus dubbed the ABC of calypso has given this country an Independence gift, really a reminder of the height to which its sons and daughters can rise in their particular areas of enterprise. The honorary doctorate, Doctor of Letters (DLitt), bestowed on him by The University of the West Indies is a celebration of his accomplishments as a calypso/soca artiste and composer and a reflection of the wider promotion he has given not only to SVG but also to the CARICOM area. Let us not forget that this has come four years after a similar award, DLitt, was given to Frankie McIntosh by the same institution, The University of the West Indies. The partnership from 1976 with Dr Frankie McIntosh had not only lifted them higher but rocked the calypso/soca world. I had stated in a previous article, that Frankie McIntosh at his award ceremony in 2018 had singled out the ABC, stating that "St. Vincent will never produce another BECKET, so cherish him as long as you can."
The reception on his return particularly in his home town of Layou, shows that he is being cherished and hopefully it will be for as long as "we can". The honour bestowed on him is certainly well deserved. Not only is his contribution to the art form significant but he has also helped to promote the land of his birth. His song, "St. Vincent I Love You" is a veritable unofficial national anthem that captures the whole state as a single entity.
The public orator at the UWI Five Island Campus in Antigua, Karen Veira, really captured the essence of the ABC in her citation. Becket, as she shows, is more than a calypso/soca artiste. She took us back to his early days in Layou, his relationships within the community, his love and dedication to his mother, his exposure to sports, his early love for the steel pan and his love for cricket. Becket was no doubt pleased that the person sharing the space with him at the graduation ceremony was Sir Richie Richardson, one of his cricketing idols. Sir Richie in addressing the gathering later referred to his "friend" Alston. I understand that at a small session held in Antigua Becket sang while Richie and Curtley Ambrose were part of the band.
Becket first played with the Key West Symphony and then with Starlift. In fact, Starlift has paid tribute to him on this latest honour and made the point that his music "has been a fixture at almost every panorama and every band in St. Vincent has his music in their repertoire."
Before he stormed the calypso scene, he had in 1969, after being encouraged by close friends to sing calypsos participated in the preliminaries of the calypso competition, celebrating Michael Findlay who had been selected to the West Indies Cricket Team. He migrated to the US in 1969 and remembered being encouraged or perhaps pressured by former policeman Phipps (now deceased) to sing at a party. It was his entry into the US army that in the end made the difference. He realised that the soldiers knew little about calypsos apart from the version provided by Harry Belafonte. He then began appearing at touring shows with the army and at Hawaiian festivals. He was encouraged by the good 'vibes' he was getting (hence his "Carnival history"). In New York in 1973/74 he made an appearance at a show with the LATINAIRES band and was encouraged by Lord Hawke to continue singing.
And so, in 1975 he was back home, winning the calypso competition with two of his acclaimed songs "Carnival History" and "Mass at Victoria". His career as a calypso artiste had started. He performed far and wide: among them, The Brooklyn Academy of Music (1976), two sold out performances at Madison Square Garden (1983), Roy Thomson Hall in Toronto, Canada(1986), VII Festival de Musica del Caribe, Cartagena, Columbia (1988), reportedly to an audience of 20,000, two performances at the Apollo Theatre, New York City (1990), "Gal Ah Rush Me/Teaser Tour (1990/1991) to sold out performances in New York City, Boston, Miami, Washington DC, Houston, Philadelphia, Montreal, Toronto, SVG, St. Lucia, Grenada, St Marten, St. Kitts, and Trinidad and Tobago; 10th Festival International de Musica del Caribe, Cartagena, March 22-25, 1991( nightly crowds of 20,000).
He has had many honours and awards, among them Ministry of Culture, SVG, 1990; Record of the Year and Best Party Tune, 1st Annual Caribbean Music Awards (Teaser).
In 1994 Billboard/Univision Award for the Salsa/Tropical Song of the Year- "Ella Me Vacilla"/ "Esa Chica" (Spanish version of Teaser). Becket in the year 2000 was the first Caribbean artiste to have performed at the US Open. He was listed as one of the 17 Outstanding Caribbean personalities of the 20th century.
One other thing that stands out was that his repertoire included not only party songs like Teaser that was recorded in ten different languages, but touched on world events, politics, cricket, carnival, oppression, human rights and black pride as is evident from his songs – I am an African, Oppression, Grenada will rise again, Love is the Answer, Laramania and his song saluting Obama as the first Black president.
There is so much more that can be said about the ABC. The fact that his songs have been well received by large and enthusiastic crowds that greeted him wherever he performed, speaks volumes. So, we salute you Dr Alston BECKET Cyrus!
Dr Adrian Fraser is a social commentator and historian