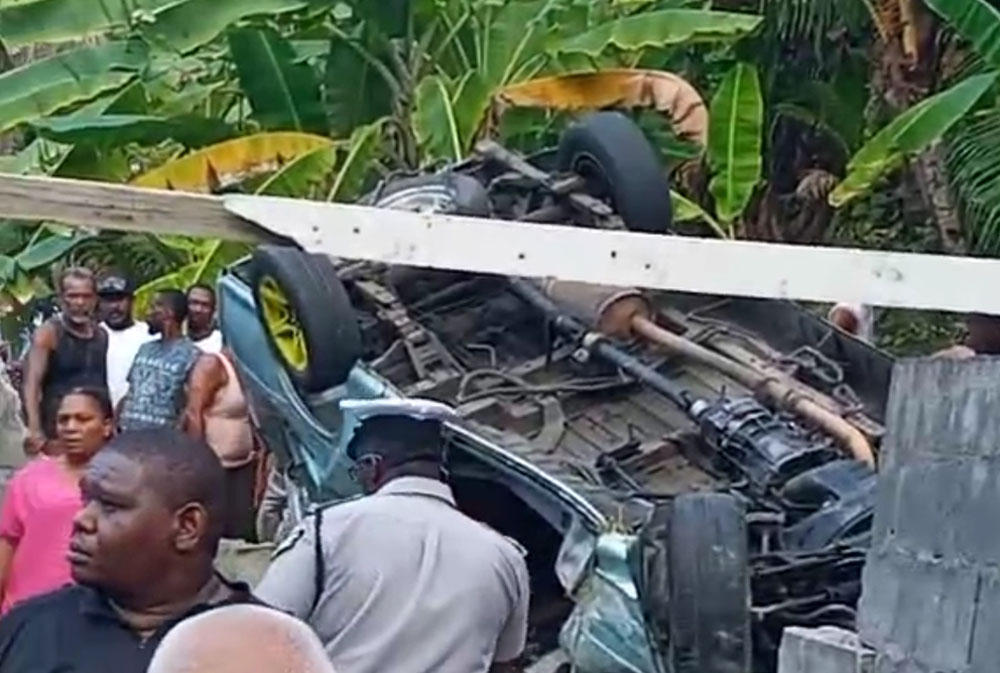 Breaking News
September 11, 2022
Five persons confirmed dead after passenger van overturns at Sandy Bay (+ video)
Five persons are dead following an accident involving a passenger van at Sandy Bay this afternoon.
SEARCHLIGHT has confirmed that four persons died on the spot, while one person died after arriving at the Modern Medical and Diagnostic Centre (MMDC) at Georgetown.
The deceased have been identified as: Giovanni Barker, Ishmael Bruce, Elvis Harold, Collin Robin and Kenroy Haywood/Phillips.
Nine persons were transported to the MMDC following the accident, four of whom are said to be in critical condition.
Some of these critical patients have since been transported to the Milton Cato Memorial Hospital in Kingstown, SEARCHLIGHT understands.
The van, H8190, is said to have overturned, pinning some of its passengers underneath and inside the vehicle.
The accident occurred in an area known as Bony River, near Sion Hill, Sandy Bay shortly after 3 pm today.
The van, which is from Clare Valley, was said to be transporting persons to Owia for the funeral of Rohan "Charla" Rawlins, who was killed at Lowmans Bay on August 15.
[[UPDATED at 11:01 pm on Sunday, September 11, 2022 to include the names of the deceased.]]