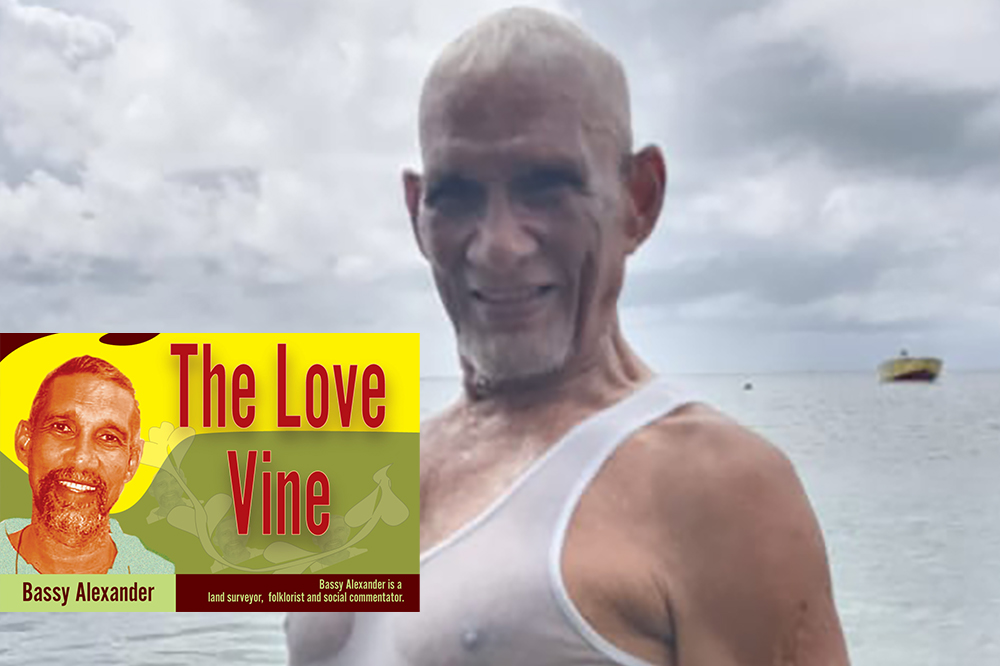 Bassy - Love Vine
November 11, 2022
An earth day to remember
Well my 81st Earth Day come and gone and ah want no claim to fame to long life, but give Thanks and Praise to God. Lie-Za would want me to give ah ball by bawl account of de day, but wid 81 Earth Days to my name ah took ah back seat and let de family mek de plans and pay de Bill.
My dear wife and I went swimming at Indian Bay, I share ah photo as proof! But what an embarrassment when two German couples from de Tourist Boat came asking us if there are any White Sand Beaches.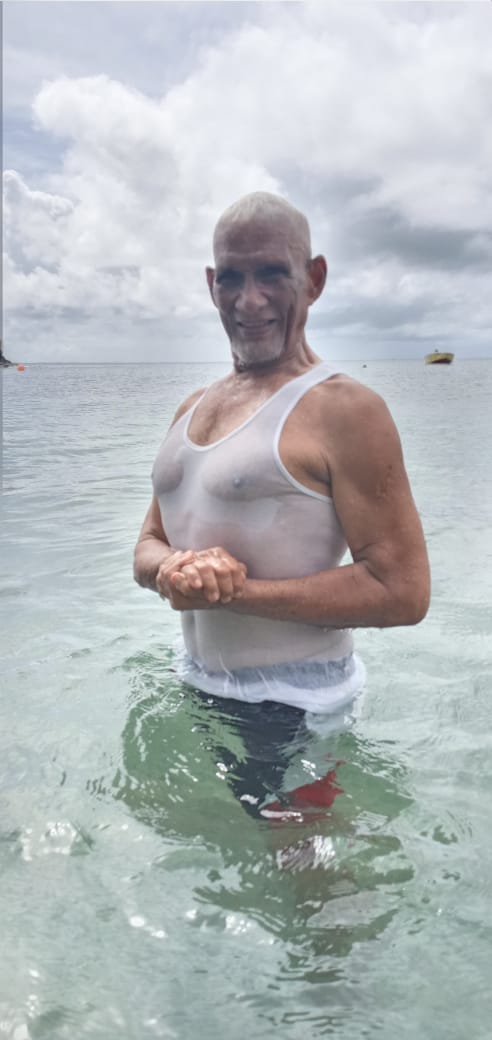 If only Tour-is-him minister will do finer things to enhance de country's physical image, visit de run-down beaches and gather some positive reviews.
We had ah tasty lunch from Ann Joshua (Cobble Stone Hotel), sampled ah lovely local "Cake Wine" courtesy "Mis Cassandra."
She's somewhere in de Kingstown Market.
My daughter inviting me to go GYM, but her big brother sent me for ah total Physio and muscle tune-up at Ozari Williams' Kinesiotherapy Clinic.
He is Vincent-shun born, Cuban trained. De rest of my Earth day is private personal and Con-Free-den-tell!
FOUR IN AH ROW
Ah notice our PM has now picked up another Doctor-Rate meking it Four in ah Row! Ah told Lie-Za she could mek dat Five or Six in ah Row. She said dat knowing de Come-Red how he believes in de Sevens, so ah could breed safely, "Seven in ah Row" is already on de table.
De most recent is from de Bolivarian University of Venezuela foh "his important contributions against aggression of the imperial power groups." Give Jack his Jacket. These honours are commendable, and speak volumes foh an island state leader who seems bent on ah mission.
Lie-Za admires him accepting Awe-Wards from de North, South, East and West, and she is hoping dat he will willingly accept ah special "100 percent Vincy Awe-ward foh " One's Contribution against Crime, Violence and Rape! Dismissal of and Victim-I-say-shun against Front-line workers (Anti-Vaxers) Teachers, Nurses and Policemen; de Destruction of Bigger Biggs ah ambitious Lickle Black Boy; de Lack-of Accountability of state Funs!"
She paused to catch her breath so ah beg her stop, is ah single honour. She had de nerve to ask me if she must give someone else an Honorary Awe-ward foh Go-Venom-mint officials clubbing around beating up our young beautiful ladies?"
IS CDC AH CLUB
Congratulations are in order to de Organizers of de In-de-pen-dance Nah-Shun-all Exhibition. Lie-Za reported dat de committee getting better and better, by leaps and bounds every year. Exhibits were of an unbelievable high quality, some beyond imagination, and best of all dey was no entrance Free. After all it's our Nah-shun-all Day, let de nay-shun get an opportunity to see de Best dat SVG has to Offer.
But Lie-Za is Pee-Eye-Double S-Tea off wid CDC- de Carnival Development Club she calls it, explaining dat CDC is now running dey own Bar at Victoria Park. Her problem however, was dat over de years, it was clear dat both de Miss SVG and Miss Carival Shows no longer attracted an audience at Vincy Mas in July, so de Miss Carival was first to b dropped, and de Miss SVG was to be shifted to coincide wid de In-eep-and-dance Celebrations.
One understands dat ah Nah-shun-all Beauty Pageant will incur expenses. Shows were on Pay-per-view and people subscribed. However dis year de CDC could not be bothered (doh kay ah damn) And Big In-de-pen-dance night dis year folks who were looking forward to viewing de show live at home for ah fee, were totally left in disbelief. CDC blanked de Nay-shun. Dey should be replaced early. And wid dat is gone ah gone again.
One Love Bassy
Bassy Alexander is a land surveyor, folklorist and social commentator.