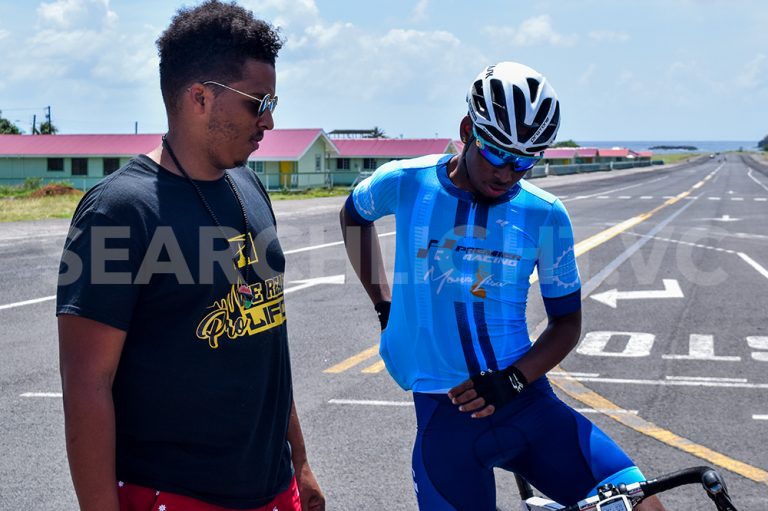 Bailey takes elite category three – stage cycling event
THE SCRIPT WAS almost perfect last Saturday, Sunday and Monday, as Zefal Bailey topped the Elite category when the SVG Cycling Union hosted a three- stage event.
Bailey won stage one on Saturday clocking 2:59.38.14, but was second in Sunday's stage two, with a clocking of 4:15.38.13. Bailey returned to the top of the podium on Monday as he timed 3:10.02.14, to cover 190.97 miles in an overall time of 10:24.78.42.
Second to Bailey was Marlon Antrobus, who recorded an overall time of 10:24.80.07. Marlon Antrobus was second in stages one and three and third in stage two.
Taking third place overall among the Elite cyclists was Lucky Antrobus, who was third in stage one, first in stage two, but did not complete stage three.
Saturday's stage one began at the decommissioned E.T Joshua Airport. From there, cyclists travelled to Colonaire, then looped from Calder to Bridgetown and finished at Akers Gap in Argyle. The Elite cyclists made the loop three times, thus covered 53.67 miles.
Stage two on Sunday rode off at Mount Young in Georgetown, then to Tourama and Georgetown and concluded at Langley Park gap. As such, the Elite cyclists did the loop nine times- an overall distance of 86.37 miles.
On the other hand , the Masters did the loop five times, as they covered a total of 46.02 miles.
And, on Monday, the Elite cyclists covered 50.93 miles. The start point was the decommissioned E.T Joshua Airport and cyclists headed to Colonaire. The Elite riders journeyed back to the Arnos Vale Roundabout, then to Bridgetown, Biabou before heading back Calder gap and proceeded to their finish line at the Belmont Look Out.